7 Natural Hot springs in Virginia And Surrounding Areas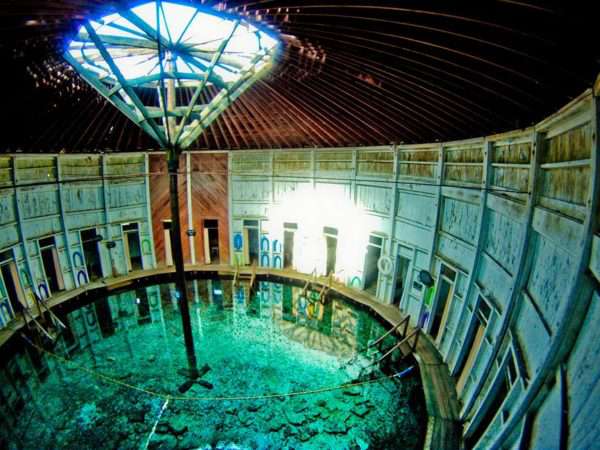 Hot springs are becoming more and more popular as the years go by. Virginia and the surrounding areas have some of the best hot springs to offer along with many different amenities close by. Whenever you need time to just sit and relax while having your skin revitalized, a hot spring will always be your best bet. Hot springs are also called by other names such as warm springs or thermal springs so whichever name you hear, just know that they are considered to all be the same.
There are over 100 natural hot springs in virginia and these hot springs will cater to people of all different types of temperature tolerances. Some of these hot springs in Virginia are warm to the touch, while others tend to be at or around the 100&deg mark.
Here is a map of the available hot springs around the United States
Hot springs labeled with a red dot are all boiling level hot springs, orange labels are hot springs, and yellow labels are of warm hot springs.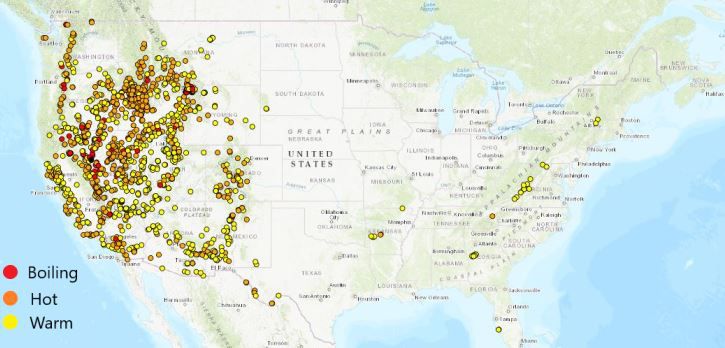 Most Popular Thermal Springs In Virginia
Healing Springs

If you're seeking a serene escape to a natural hot spring in virginia, look no further than Healing Springs, also known as Rubino Healing and Sweet Alum, located in the enchanting Warm Springs, Virginia. This hidden gem offers a fantastic natural hot tub experience, where you can immerse yourself in the soothing and relaxing waters maintained at a blissful eighty-six degrees Fahrenheit year-round.

A Historical and Rustic Retreat - Healing Springs is steeped in history and embraces a rustic charm that transports visitors to a bygone era. As you step into this enchanting sanctuary, you'll be captivated by the authenticity and simplicity that permeates the surroundings. The allure of this natural hot spring lies not only in its healing properties but also in its ability to transport you to a simpler, more tranquil time.

Unleashing the Healing Waters - For a truly rejuvenating experience, I highly recommend indulging in the spring's therapeutic soak. The mineral-rich waters work wonders on the skin, leaving it irresistibly soft and revitalized. However, swimming is not advised, as the primary focus is on the soaking experience, allowing you to fully immerse yourself in the healing properties of the springs.




Alum Spring

Fredericksburg, VA 22401

Nestled in the heart of Fredericksburg, Virginia, Alum Springs offers a captivating escape to a bygone era. As a primitive hot spring, it exudes an unpretentious charm, inviting visitors to indulge in the simplicity of nature's therapeutic wonders.

Tucked away amidst lush foliage, the spring's soothing waters are renowned for their naturally warm temperature, promising a revitalizing experience. Whether seeking solace or seeking a connection with history, Alum Springs transports guests to a time when simplicity and rejuvenation were intertwined, making it a hidden gem to cherish and embrace.

Alum Spring Park Features:
Grills
Parking Lot
Covered Picnic Shelter
Picnic Tables
Electricity Available
Play Equipment
Restrooms
Walking Path / Trails
Bolar Springs
Warm Springs, Virginia
Located within the city of Warm Springs, Virginia, this natural wonder boasts a larger spring with an inviting average temperature of 73 degrees Fahrenheit.
Nature's Sanctuary and Camping Delight - For those seeking a serene escape, the Bolar Mountain Recreational Area provides the perfect haven. Embrace the splendor of Mother Nature as you immerse yourself in the breathtaking views and discover fantastic camping locations amidst the surrounding beauty. The Bolar Mountain Recreational Area becomes your sanctuary, offering an opportunity to recharge and reconnect with the natural world.
Plan Your Journey to Bolar Springs - To fully savor the wonders of Bolar Springs and its surroundings, make sure to plan your stay at the Bolar Mountain Recreational Area. Explore the Recreation.gov for comprehensive information on camping options, amenities, and reservation details. Ensuring your stay at this delightful campground will provide you with the perfect base to embark on your memorable Bolar Springs adventure.
Blowing Springs
SR 39 Warm Springs, VA 24484
Nestled in the enchanting wilderness of Blowing Springs, Virginia, lies a captivating phenomenon that leaves visitors in awe. A truly unique geological wonder, this site is named after the mesmerizing duct that exhales air from the rocks at a constant 58 degrees, offering a comforting embrace that feels both warm or cool, depending on the season.
Natural Marvels and Camping Delights Located just off Virginia Highway 39, Blowing Springs provides an idyllic retreat for nature enthusiasts and campers alike. The campground offers a diverse range of camping experiences to suit every preference. The lower portion greets guests with an expansive grassy field, inviting campers to spread out and relish the open expanse.
On the other hand, the upper area unveils small tent sites embraced by a tranquil wooded setting, promising a secluded and intimate camping experience.
Warm Springs Pools
11 Bath Street, Warm Springs, Virginia
If you're looking for a truly rejuvenating experience, look no further than the historic Warm Springs Pools, nestled within The Omni Homestead Resort in Virginia. After undergoing a meticulous 14-month, $4 million rehabilitation, these iconic bathhouses have reopened, allowing guests to once again "take the waters" and bask in the therapeutic properties of these natural springs.
Ambiance and Atmosphere - The Warm Springs Pools exude a timeless charm, with the bathhouses thoughtfully preserved by 3North, a Richmond-based architectural firm, in accordance with the 2016 Historic Structures Report. As you step into this oasis of relaxation, you'll be transported to a bygone era, where the harmonious blend of tradition and modern comforts create an enchanting ambiance.
Soaking Options - Guests have the opportunity to choose from various soaking times and experiences, ensuring a customized and enjoyable visit. The Family Soaking Time (10:00 a.m. - 1:00 p.m.) at the Ladies' Bathhouse welcomes children under 18 accompanied by a parent, providing a unique and family-friendly opportunity to enjoy the warm waters together. During the Adult Co-ed Soaking Time (10:00 a.m. - 3:00 p.m.) at the Gentlemen's Bathhouse (10:00 a.m. - 1:00 p.m.), guests aged 16 and above can relax in swimsuits, creating a comfortable and communal setting. For those seeking a more tranquil experience, the Adult Soaking Time (3:00 p.m. - 6:00 p.m.) is divided by gender, and swimsuits are optional, fostering an atmosphere of ultimate relaxation and rejuvenation.
Reservations and Pricing - To ensure a seamless experience, reservations are required, and the pools operate Tuesday to Sunday from 10:00 a.m. to 6:00 p.m., with soaking sessions available on the hour. The pricing is reasonable, at $30 per person for a 50-minute soak, offering excellent value for the serene escape that awaits.
Location and Accessibility - Conveniently located just over five miles from The Omni Homestead Resort, the Warm Springs Pools offer a picturesque retreat surrounded by nature's beauty. The resort's proximity allows guests to easily access this hidden gem while enjoying all the amenities the resort has to offer.
7696 Sam Snead Hwy, Hot Springs, VA 24445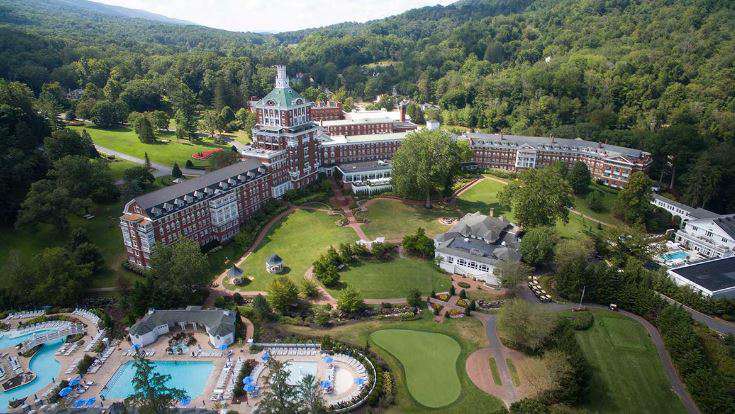 The Omni Homestead Resort was built in 1766, sits on 200 acres of land, and has hosted 23 United States presidents over the years. This resort comprises of many different types of attractions and we will be going over each of them below.
Spa Garden

The Spa Garden's mineral water was discovered over a century ago and has since brought peace of mind and healing benefits to people from all different walks of life. The Spa Garden is of European design and will definitely appeal to anyone who visits. Visitors have the option of cooling off in the shade of the provided cabana, take a sunbath in one of the pools that is spring-fed.

Octagon Springs

The Octagon Springs was first enclosed sometime in the 19th century. There are several springs that form the pool which is in the shape of an octagon and this pool sit at or around 99.7&deg.

Reflexology Walk

The Omni Homestead Resort offers a reflexology walk which is the art of applying pressure to certain parts of the body. Applying pressure to these parts of the body is said to promote a healthy immune system.

Some people that have opted in for the Reflexology walk have reported many

Clear Sinuses
Boost Fertility
Help Back Problems
Improve Digestion
Heal bacterial infections
Correct hormonal imbalances
Help fight cancer
11 Bath St, Warm Springs, VA 24484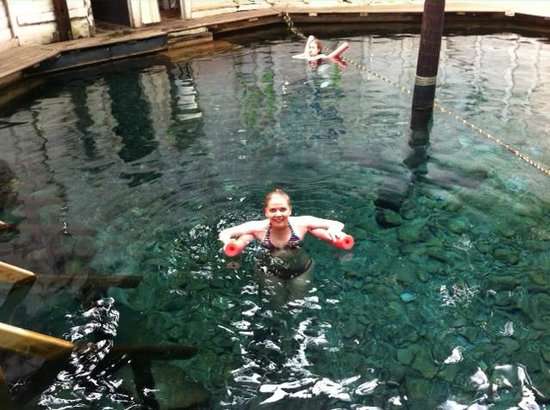 Notice
The Jefferson Pools is currently closed and will be closed until further notice from the Bath County officials. However, i decided to place this hot spring pools at the number one spot in hopes of it getting more attention in order for it to be re-opened.
Visitors from all over the world come to the Jefferson Pools to enjoy its mineral-rich waters. It is said that Europeans and explorers in the 1700s discovered these pools and later built small guest lodges close to the pool. They, like everyone else, used the mineral-rich waters to soothe aches and pains or just to simply soothe tired bodies.
Thomas Jefferson, which is the third president of the United States of America first visited the Jefferson Pools in the year 1818 and stayed 3 weeks taking in the pool's water each day. The Jefferson Pools was known as the Warm Springs Bathhouses before later being renamed after Thomas Jefferson in 1996. There is a high mineral content and the water is crystal clear all around.
Hot Springs Close To Virginia
2 S Washington St, Berkeley Springs, WV 25411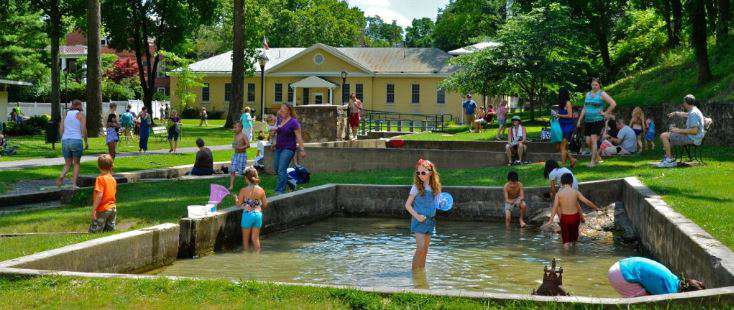 The Berkeley Springs is located in the center of the Berkeley Springs State Park and is a mineral spa that always has warm spring water. This spring water is always at a moderate temperature of around 74.3&deg. Being on the Berkeley Springs State Park premises offers other amenities such as the Main Bathhouses and Old Roman Bathhouses. These bathhouses offer services such as saunas, massages, showers, and baths.
Activities available
Camping
Golf
Swimming
Museum and historical sites
Attractions Nearby
You will have many different options to enjoy yourself while you visit the Berkeley Springs. Here are a couple attractions you can visit while you are here.
RIDGE FISH HATCHERY

The Ridge Fish Hatchery is located only a couple miles south of Cacapon Resort State Park. Admission here is free and this is where most trout and bass are raised before being released into the local lakes and streams.

CACAPON RESORT STATE PARK

This resort is located roughly 10 miles south of Berkeley Springs. You are able to stay here overnight as well as enjoy many recreational activities.

These activities include:

Horseback Riding
Golfing
Watersports
Hiking
3818 Capon Springs Rd, High View, WV 26808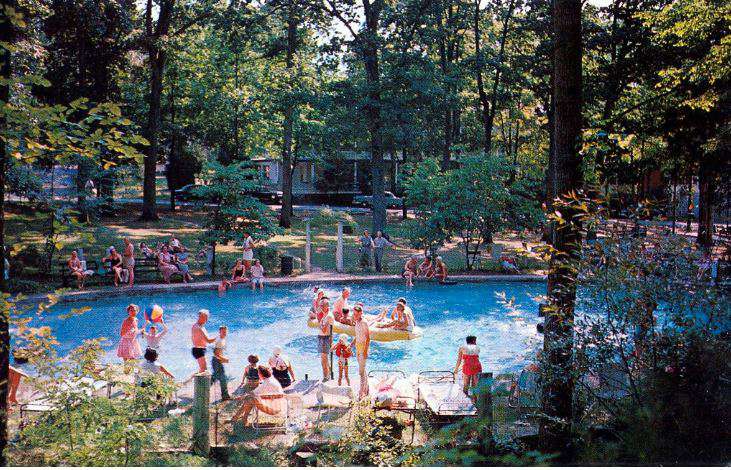 The Capon Springs & Spa is an all-inclusive resort that has mineral water in its spas. You can soak in the pools that were built to resemble old school roman architecture. Whenever you are not soaking in the pools, you can opt-in for reflexology sessions, facials, or some soothing massages.
Making a trip here, you will have the great feeling of having a spa that is filled with minerals, along with many other activities and amenities to enjoy. Some of these amenities include:
Golf

There are 2 nine hole courses here to enjoy which are the short par three and a regulation. There are no water hazards, great lawn care, and tree-lined fairways.

Fishing

There are a total of 2 fishing ponds that has many different species of fish like bass, giant carp, trout, catfish, and blue-gill. You are not required to have a fishing license and will be allowed to have your catch cooked by one of the Capon cooks once the catch is over 8 inches.
315 Bridge Street P.O. Box 428 Hot Springs, NC 28743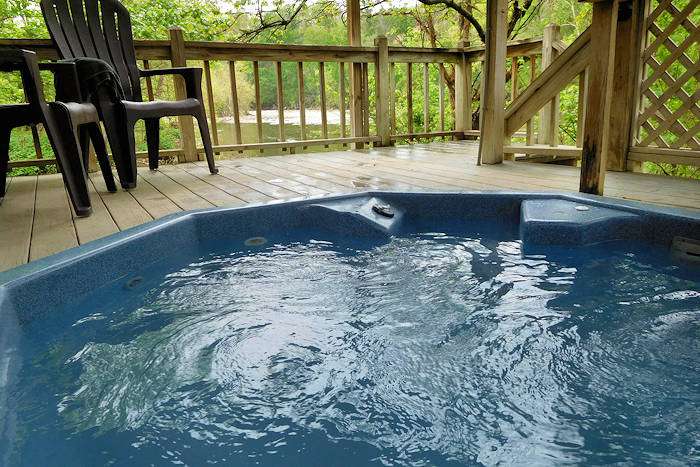 Native Americans were the first to discover the soothing mineral waters in this area. Scientists have found many different evidence that these Native Americans have been here over 5000 years ago.
The mineral water here is warm and suitable for everyone. This is one place you need to experience to appreciate it.
What are some recreational activities available?
There are many recreational activities you can take part in while at hot springs, nc. Here are some.
TREE TOP ZIP-LINE TOURS

While you visit the Hot Springs, you can enjoy the tree top zip-line tours. This is a fun activity that will get the heart pumping. You will see the top of many beautiful trees as well as many different plants. Take the whole family here and enjoy.

WHITEWATER RAFTING

Enjoy your time rafting with friends or family. This is a fun activity for anyone who loves being on the water.

HORSEBACK RIDING

Why not enjoy horseback riding while you are in the area? It does not matter who you are or which disability you might have, this horseback riding trail caters to everyone. Kids, families, and disabled visitors.

HIKING

If you are an avid hiker you will surely enjoy the trails offered in and around this location. There are popular trails such as the Laurel River Trail, Pump Gap Loop Trail, Appalachian Trail Town, Lover's Leap Trail and the Appalachian Trail Loop.
The Benefits of Hot Springs
I love hot springs! They're so relaxing and therapeutic. I've been soaking in hot springs for years, and have found out that there are a number of benefits to these wonders. Here are just a few:
Reduced pain and inflammation. The heat from hot springs helps to relax muscles and joints, and the minerals in the water can help to reduce inflammation. This is great for people with conditions like arthritis, muscle pain, and chronic pain.

Improved circulation. The warm water from hot springs helps to improve circulation by dilating blood vessels. This can help to reduce blood pressure and improve heart health.

Boosted immune system. The minerals in hot spring water can help to boost the immune system by fighting off infection. This can help to prevent colds and flu, and it can also help to speed up recovery from illness.

Improved skin health. The minerals in hot spring water can help to soften and exfoliate the skin, and they can also help to reduce acne and other skin conditions.

Reduced stress and anxiety. The warm, relaxing environment of a hot spring can help to reduce stress and anxiety. This is because the heat helps to relax the body and mind, and the minerals in the water can have a calming effect.

Improved sleep quality. Soaking in a hot spring before bed can help to improve sleep quality. The heat can help to relax the body and mind, and the minerals in the water can help to promote sleep.
I'm not a doctor, so it's always best to talk to your doctor before soaking in a hot spring if you have any health concerns. But for me, hot springs are a great way to relax and improve my health.
Here are some tips for getting the most out of your hot spring experience:
Choose a hot spring that is the right temperature for you. Too hot of a spring can be dangerous, while too cold of a spring may not be effective.
Start with a short soak and gradually increase the amount of time you soak as you get used to the heat.
Drink plenty of fluids before, during, and after your soak to avoid dehydration.
Avoid soaking for more than 30 minutes at a time.
Take breaks in between soaks to allow your body temperature to return to normal.
Apply lotion to your skin after your soak to prevent it from drying out.
We just went over some of the benefits of hot springs, i hope you enjoy your next hot spring experience!
Frequently Asked Questions
Q: What's a Thermal Hot Spring? Does Virginia have any hot springs?
A: A thermal hot spring is a natural spring that emerges from the ground with water at a significantly higher temperature than the surrounding air. Yes, Virginia is home to several hot springs, each with its unique charm and healing properties.
Q: Does Virginia have natural springs? What is the difference between hot springs and warm springs?
A: Yes, Virginia is abundant in natural springs. The difference between hot springs and warm springs lies in their water temperature. Hot springs have water significantly above body temperature (typically around 98.6°F or 37°C), while warm springs maintain a more moderate warmth, usually above the average ambient temperature but not as hot as true hot springs.
Q: How are these hidden gems formed?
A: Hot springs and warm springs are typically formed by geothermal activity beneath the Earth's surface. Water seeps deep into the ground, where it is heated by geothermal heat sources, like magma chambers or heated rocks. As the heated water rises, it finds its way to the surface, creating natural springs with varying temperatures.
Q: Why are they called healing waters?
A: Hot springs and warm springs have been revered for centuries for their potential healing properties. The mineral-rich waters are believed to offer therapeutic benefits for various conditions, such as soothing sore muscles, alleviating arthritis pain, promoting relaxation, and enhancing overall well-being. The minerals found in the water, like sulfur, calcium, and magnesium, are thought to contribute to these healing effects.
Remember that while many people find comfort and relaxation in soaking in natural springs, the term "healing waters" should not be taken as a guarantee of medical treatment. Always consult with healthcare professionals for specific health concerns.
If you ever decide to hit up the any trail with your bike or any other gear, try one of the Best Hitch cargo carrier over at tonytrailers.com.
Subscribe
Stay updated with our newsletter



Get deals from BackCountry.com Save up to 40% Off Mountain Hardwear at Backcountry.com!

Hot Spring Items
Here are some items to make your time at any hot spring more enjoyable. My favorite is the EQUICK non-slip sandals.
These sandals are perfect for a hot spring visit. You don't want to get of a hot spring and have any accidents such as slipping. These non-slip sandals will help with keeping you and your family on your feet.

After soaking in a hot springs, you will most likely want a towel that is absorbent and soft on the skin. This 4 pack towel set will get you and three other family members dry in no time. Pick up a set today.
Some of these hot springs in Virginia have trails that you can use these tandem bikes on.
Conclusion
As stated earlier, hot springs are a great way to relax and also a good source of a mineral bath. Hot springs are used by people of all ages to help with certain types of health conditions. Skin infections and irritations such as eczema and rashes are known to get better or feel better after taking a bath in a sulfur-rich hot spring. Sulfur has many healing capabilities and is known by many around the world to be a good source of help for people with arthritis, dry scalp, and also many other internal disorders such as digestive disorders and menopausal problems. Try a virginia hot spring to see how good you feel after taking a dip.