How Much Does it Cost to Store an RV?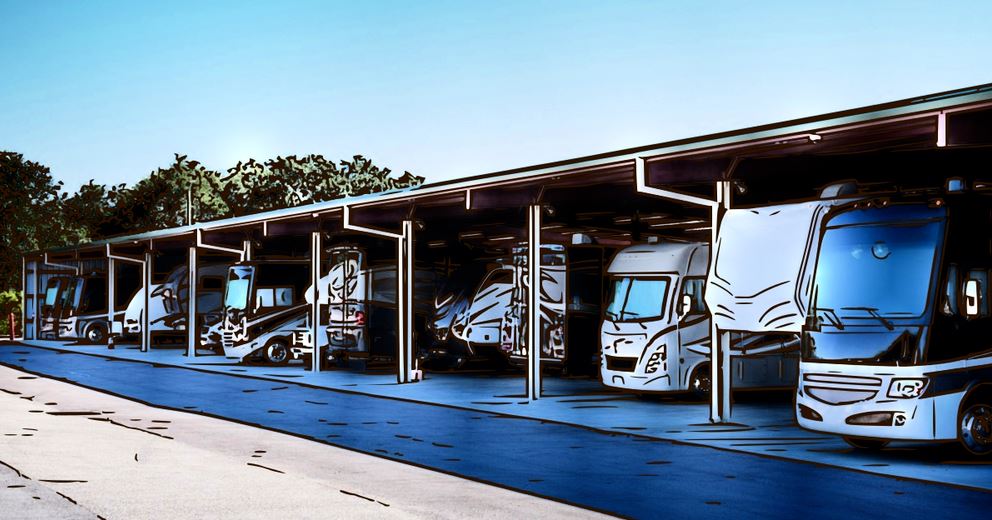 It will cost on average $150 per month to store an rv for a month. The cost will usually be decided by the length of time you need to store it for and the size of your camper or RV. However, if you would like to save money on storage prices then consider looking at places that offer short term or long term storage deals.
If you only need to pay for indoor storage for a month or two before you plan to use your camper again, then a good idea might be to look for storage deals. If you are storing your camper for an extended period of time then it's a great idea to shop around or look at reviews on RV storage lots. It will cost more if you need the camper outside, covered, in a field with no utilities, etc., but there are often deals available where you can get a discount, such as the first month free.
If you need to store your camper or RV for longer than a year, then it's important to consider every other aspect of the storage space where you plan to keep it because there will be other variables that could affect what you pay.
Factors You need to consider
Below will be a list of all the factors you need to consider when you plan on storing your rv.
When you start your search for an RV storage lot, make sure you get quotes from each different facility so that you can compare prices.
Security - You will want to know that the space is secure and there aren't any holes in the fencing or other areas where someone could easily access your vehicle. Some RVs are very difficult to break into, but it's still important to know if the security cameras are working and how many guards or employees patrol on a regular basis. You will also want to consider what kind of locks they have on the gates and whether they require a keycard or a passcode before entry.
Climate controlled vs non-climate controlled – This factor may not affect the cost very much, however, it can also affect how much you need to pay to get your RV inside the space. If it is not climate controlled, there may be a lot of dust and dirt flying around so you'll want to put tarps down under the vehicle or add a cover if possible. You will also want to make sure that having an outdoor storage unit won't hinder the growth of any rust on your metal parts from being out in the elements year round.
Uncovered vs covered – This may affect the cost only slightly, but if it rains a lot where you live, then you'll definitely want a covered space even though it will be more expensive. If you do go uncovered, make sure there are no trees around that could potentially drop limbs or twigs that may damage your RV.
Indoor vs Outdoor – The costs should be very similar if the outdoor storage unit has roofing. However, if your vehicle is not under cover, you should expect to pay more for an indoor unit. There are also additional charges to expect like for lighting and access to the facility due to security reasons.
Amenities offered - What are some of the amenities that the storage facility offers? Some may include: on-site staff, security cameras, and RV supplies like a hose for hook up.
Size of your vehicle – This is the main determining factor in how much you will pay to store your RV or camper. As previously stated, if you have an RV with a bigger size (such as a Class A), then expect to pay more than someone who has a smaller sized recreational vehicle like a pop-up camper . It's not just about the price of storage alone; you should also factor in where it's located and how far away from home that might cost extra money for fuel and time.
Cost – The final cost will vary depending on what state you live in and the company you choose. Today, the average monthly fee ranges from $75 - $250 per month. Storage space for RVs is usually priced by the foot. Thus, it can become expensive if you're trying to keep your unit in storage longer than six months.
Location – Where your RV will be stored can also cause prices to vary greatly depending on the state you live in. Generally, storage prices are higher in major cities or industrial areas. Smaller towns are typically less expensive.
Protection – If you're planning to keep your RV indoors at all times , you should plan on paying a bit more for it because the indoor units are usually climate controlled to protect against humidity and heat or cold damage. Although most outdoor spaces can accommodate year-round storing, if yours is an area with extreme weather changes, then you may need this added protection.
Contractor – Lastly, depending on what company you choose to store your motorhome with can determine how much you pay per month as well as what type of experience they have with vehicles like yours. While not always necessary, knowing this information can help you make the most informed choice for your situation.
What Is An Indoor RV storage
An Indoor Rv Storage is a type of RV storage that provides your vehicle with the most complete protection.
It is a unit in an enclosed facility, typically very large and climate controlled to protect against humidity and heat or cold damage. If yours is an area with extreme weather changes, then you may need this added protection. Most outdoor spaces can accommodate year-round storing however, so understanding what type of weather yours experiences before choosing your unit can help you make the best choice for your situation.
Indoor rv storage cost
Indoor Rv Storage cost on average $50 - $450 depending on the size and type of rv you plan on storing. Other factors that can affect the cost of your storage unit may be a climate-controlled space, facility amenities or second floor access.
Second floor units are typically pricier because they require more labor to move the items up and down stairs rather than on a ramp. Second floor units also tend to be larger, as they need to store more inventory, which causes higher insurance rates. It is important that you check with each facility for additional fees before you agree to any contract.
Pros of an Indoor RV storage
Indoor Rv Storage is a great option for anyone who wants to store an RV long-term during the off-season.
If you're looking for complete protection from the environment, then this is your best bet. Since storage units don't have any windows, you won't have to worry about water leaks or dirt getting in your Rv. There are also plenty of on site security cameras that protect your property against theft at all times of the day and night. If you feel uncomfortable with storing your RV somewhere without a human presence, some facilities let you drop off and pick up your RV whenever it's convenient for you. Below is a list of some of the pros of storing your rv indoors.
Most complete protection available.
If you store your rv in an enclosed space, you can rest assured that it will not be damaged by the elements. Additionally, only you have access to your unit. You don't have to worry about a stranger having a copy of the key and helping themselves to whatever is inside.
Schedule pick-ups and drop-offs to fit your schedule.
It is more secure.
If you are looking for a storage facility that provides both indoor and outdoor rv storage, then this is the ideal solution for you. It gives you the protection of an enclosed garage without sacrificing access to your unit.
If it is raining, snowing, or there is too much sun radiation, your rv will be safe from all of these elements inside the storage facility's enclosed area.
Not only does keeping your rv indoors provide much better protection from natural disasters and theft, but it also provides more control over when you want to use your rv and when you don't. You no longer have to break out the water pump or wait for warmer weather before using your rv because it has been sitting outside all winter long.
Cons of an Indoor RV storage
Most expensive type of rv storage.
Expect to pay for electricity, sewer access, and insurance.
You have to drive the rv in every time you want to use it.
Larger spaces are harder to come by. You may not be able to get your exact size if something else is already occupying the space.
What Is An Outdoor RV storage
An Rv Outdoor Storage Space is guarded with gated security and includes lot lights for nighttime use. The outdoor storage space may include hookups for electricity, water, and sewer services. These spaces vary in length depending on availability of the lot. Outdoor rv storage access is typically limited to daytime hours, so you will want to discuss your specific preferences with the facility manager before signing a contract.
Pros of an Outdoor RV storage
These types of storage will generally provide more space than an indoor storage.
It usually costs less than an indoor storage.
You can take your time packing and getting to know your RV before taking it on the road.
Cons of an Outdoor RV storage
Many outdoor spaces do not allow you to plug into electricity (for overnight/long-term use).
Most people who store their RV outside use generators which make running appliances like microwaves, TVs, and hair dryers difficult.
Outdoor Rv Storage can also be more costly than indoor RV Storage particularly if power is needed.
There might be damage to the exterior of your RV from weather conditions.
Your outdoor storage space will have to be secured to prevent theft.
Many outdoor lots are not level, which makes it difficult to set up your RV properly when you want to use it. A good option would be for companies to develop a system where they could offer customers gravel or rubberized surfaces which allow for proper leveling and protection against sinking in the future.
What Is The average cost for short term outdoor rv
The average cost to store your rv for short terms on the outdoors will be about $80.00 a month. For longer periods of time you can expect to pay around $140 dollars a month.
When To Choose An Outdoor Rv Storage
If you live in an area with mild climates where extreme weather change isn't common, then it could be beneficial to choose outdoor storage. Since they are exposed to the elements 24 hours a day regardless if there are downpours or snowstorms, a lot of the wear and tear that an RV endures happens while it is in storage. If you do not have a place to store your RV at home and it's too big for an indoor storage facility, then outdoor rv storage may be looking into.
What Type Of Rv Storage Is Right For You?
To decide what is best for you, consider your preferences when it comes to convenience and price. If you are looking for cheap rv storage that offers no additional amenities like electricity or wastewater services, then an outdoor rv storage space might be perfect. On the other hand, if you would like more amenities but don't want to spend a lot, you could choose indoor rv storage. There are two options for outdoor RV storage. You can choose to store it yourself (if possible) or pay a storage facility.
At Home Outdoor Storage Option
If you have space available at home to store your motorhome, boat or camper trailer, then this solution could work well. You don't need a special parking pad or driveway, just a flat area where the RV can sit undisturbed.
The most important aspect of storing the RV at home is to give it a good cleaning. The last thing you want is dust and grime building up on your motorhome as it sits outside in storage. If you live in a climate with rain, make sure that you dry things out before winter comes or snow starts to fall.
Subscribe
Stay updated with our newsletter
Conclusion
The best thing to take away from this blog is not so much about how much it costs to store an RV, but the fact that there are things that you should put into consideration before deciding if storage or keeping your motorhome at home is best for you. The choice of whether to keep your motorhome in storage or not depends entirely on your preferences and lifestyle.
There are many other things to consider like climate, noise level during the day (if you park where neighbors can see), security, rodents/insects, cleanliness, etc. You should also think about what other vehicles need use of the garage space while the RV is stored outside for months/years on end, or even worse, you can't afford a second spot and have to drive it around on days you use it. The best thing to do is try both storage and home storage for 6 months each, then decide which works better for your lifestyle.
Best Travel Trailer Brands
If you are considering the purchase of a travel trailer, then read this blog post about some of the best travel trailer companies that are around right now.
VIEW POST