Generators for camping: Ultimate Guide.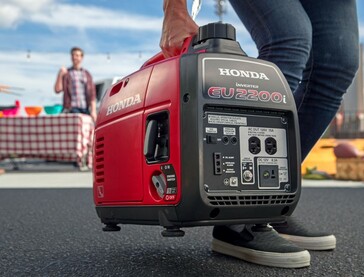 Whenever we go out camping, it is always a good idea to take a backup source of electricity. Here I will list 5 generators that i think everyone should consider. One Generator on the list is my favorite because I own one and have also upgraded the gas tank to be able to run it for longer hours.
Used properly, the camping generator can provide power to our gadgets and entertainment during camping for items like: cookers, air conditioners (in tents), refrigerators along with many others. But more than that, modern generators are now making camping easier and more quiet. You can purchase a generator that makes close to no sound and can be used without waking up your camping neighbors.
Choosing the right generator
RVs have become increasingly popular over the past few years, and for good reason. Not only does having your own place to live make sense given that they can cost upward of $100k,000 (or even more), but they offer much flexibility and freedom. However, before pulling the trigger on purchasing your dream RV, it's important to know what type of generator you'll need to power everything inside. You don't want to purchase a generator without knowing whether it will meet your specific requirements, such as size, power output, capacity, and durability. A generator is just as crucial to an RV as any piece of equipment, and you want it to last a long time. If you're looking for a powerful generator at a reasonable price, then we suggest checking out our top pick, the Honda EU2200i
What size generator for camping
Depending on what type of devices or electronics you plan on using, you will need a camping generator that can supply a certain amount of power. For example, if you have small electronic devices like cellphones and iPods, a camping generator with 600 Watts or less should be sufficient.
For small solar generators, you can visit our article on small solar generators for camping. These generators are great for small electronics while you are camping.
If you want to run table saws or items like a microwave, you will need a camping generator with more wattage. There are camping generators that can have 6000 Watts of power or more to run any major appliances while camping.
I think everyone will love the quiet generators/a> on this list.
This generator isn't the most powerful on the list, but it deserves to be on this list because of the ease of using it and it's undeniable portability. It delivers 2200Watts which is almost enough power to run every item in your rv. It is equipped with the GXR120 engine that produces 20% more power than the previous version. It has been built to be more quiet and smooth. The bigger oil filter that is fitted to this generator allows for easier and cleaner oil changes.

The highest quality magnets are used in this unit to produce very high-quality inverter power without having to make any sacrifices in the weight department. When it comes to reliability, Honda is one of those companies that ensures the best. With that being said, with any purchase of one of these generators, you will be given a warranty from top to bottom for 3 years.

For a more indepth look at this generator, read our review at Honda EU2200i Portable Inverter Generator Review.

Weighing in at 48 pounds, the Wen 56200i is perfect for those looking to power up without noise. Offering 2000 watts, this generator offers an eco-friendly alternative to the larger, louder generators on the market. This company spent its time engineering a lightweight and portable product that you can take anywhere with ease while still being powerful enough to get the needed power when needed!

It's lightweight, low maintenance, and durable design will keep your camping trips out of the dark ages and into a bright future.

The Wen 56200i is so quiet you won't even know it's running from across the room. Do not hesitate to get one of these generators.

Specs
79.7cc 4-stroke OHV engine
Large Capacity (2000 Surge watts, 1600 Watts Rated)
extremely quiet 51 decibels
Charge from AC Wall outlet, Vehicle, Solar, Generator
One 12-Volt DC receptacle, Two 3-prong 120-Volt receptacles, One 5-Volt USB port
3-in-1 Switch (On-Off-Choke)

Inverter generators are known for their powerful performance, quiet noise and easy transport. This is a powerful model that is just as comfortable having fun in the great outdoors with your family or during power outages at home. It can run two space heater units simultaneously and will last up to 7 hours of use on one tank of gas! You'll be able to enjoy yourself all day while using this generator as an important resource when you need it most!
| Product Specs | Result |
| --- | --- |
| Voltage | 120/240VAC & 12VDC |
| Frequency | 60 Hertz |
| Engine | 212cc |
| Fuel Type | Gasoline / Propane |
| Peak Watts | 4,850 Watts |
| Running Watts | 3,850 Watts |
| Rated Amps | 32.08A / 16.4A |
| Engine Speed | 3600 RPM |
| Volume Level | 69 dB |

The Yamaha EF2000IS Generator is also one of my favorites because of the low dB rating. This generator only produces 51dB of noise under 1/4 load. It is not a large generator, but what it lacks in size it makes up for in portability and power. The Yamaha EF2000IS Generator outputs 2000 watts and has a sound dampening case to further suppress noise output. This unit weighs in at 44 pounds and will be able to run for 10.5 hours when placed under normal load on a full tank of gas.
If at anytime you decide to upgrade, you can upgrade to the EF2000ISv2. However, there is one need feature with both these generators. You can use their parallel function which enables you to connect two generators for a total output of up to 30 amps. In order for this to work, you will need two generators and a Twin Tech Cable which is sold separately. This is one of the best portable generators at a reasonable price.
Yamaha believes in their products so much so that a 2 year warranty is added to all products.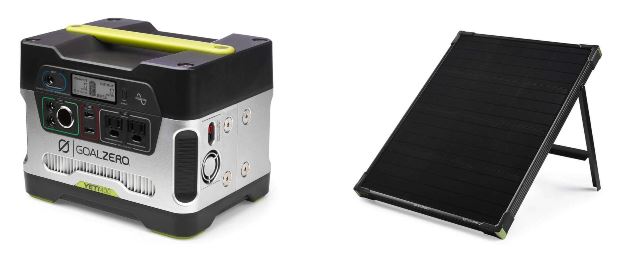 This list wouldn't be fully taken care of if it didn't have a solar powered generator. It definitely isn't the most powerful on this list but what it lacks in power, it makes up for in size and weight. It comes with 400wh, 33Ah(12V) battery capacity. This is enough to power many of your mobile devices like cellphones, tablets, laptops and many other small devices. There are numerous ports available which include:
Two AC Outlets
12V output
Two USB Ports
6mm port: 12V, up to 10A (120W max)
Power Pole Chaining Port: 12V, up to 33A (400W max)
Charging Port (input, 8mm, blue, circle): 14-29V, up to 10A (120W max)
This generator has many different ways in which you can charge the included battery:
Wall Charger (72W): 5 Hours
Car Charger (30W): 13 Hours
Nomad 20: 31-62 Hours
Nomad 50: 12-24 Hours
Boulder 50: 12-24 Hours
Boulder 100: 6-12 Hours
Boulder 100 Briefcase: 6-12 Hours
Nomad 100: 6-12 Hours
Boulder 200 Solar Panel: 3-6 Hours
There are two AC outlets as stated above but this can be extended by up to two more if you use a power inverter in the 12V ac outlet.
Powerhorse Portable Generator - 4000 Surge Watts, 3100 Rated Watts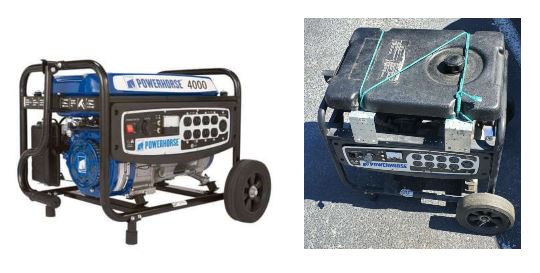 The PowerHorse 4000 is my favorite as I have personally owned one for over 3 years. The photo on the left is of a brand new item and the one on the right is of my modified item with an upgraded fuel tank. The original fuel tank is a 3.9-gallon tank but I upgraded mine to an 8 Gallon. The original 3.9 Gallon tank can run the generator for 10 hours at a 50% load. I have never tried running it for more than 14 Hours with my upgraded tank just yet but I know the 10 Hour mark is just about right on the original tank.
The major plus for this generator is the 8 120Volt outlets that it has along with 1 120V/240V 30 amp outlet. With that many outlets, you can have many different tools running at a time you might want to invest in some extension cords.
How to startup the generator
The Powerhorse portable generator uses a recoil system to start its engine.
Here are the steps to be taken to start the generator.
Check to see that the generator is on a level surface.
Check the engine oil and the fuel.
Check and see that there is no load connected to the generator.
Move the fuel valve to the On position.
Turn the Engine switch to the On position.
Move the Choke to the On position.
Move the throttle lever about 1/3 to the Fast position.
Pull the recoil handle.
If the Choke was moved to the On position, move it slowly to the Off position while the engine warms up.
How to shut down the generator
Move the throttle lever to the Slow position and allow the engine to run for a couple of minutes.
Turn the Engine switch to the Off position.
Turn the fuel valve to the Off position
Things to consider before buying a generator
Type of generator

Generators that are used for camping come in two different types. These two types are the conventional and the inverter generators.
Conventional Generator

The Conventional generator is a much older type of generator that is made up of an alternator and a motor. To produce current, the motor has to run at a constant speed of around 3600RPM. This however makes conventional generators more loud than inverter generators.

Inverter Generator

The Inverter generator is a newer style generator that has an engine, a circuit board, and an alternator all in one. The purpose of the circuit board in this type of generator is to adjust the speed at which it operates in order to compensate for the load that is placed on it. Inverter type generators are a more ideal type for camping as they produce less noise, they produce DC current which is more safe for electronics such as cellphones and laptop, and they burn less fuel.
Power Output
The power output of your generator will decide how many items you can run at the same time. Take note of all the things you might want to run on any given day that requires electricity while camping. You would not want to purchase a generator that only offers 800 watts when you want to run things like hair dryers and electric grills that requires over 1200 watts.
| Electronic/Equipment/Appliance | Watts Used |
| --- | --- |
| Hair Dryer | 1600w, 1800w, 1900w |
| Blender | 400w, 850w |
| Laptop/Computer | 225w, 700w(Average) |
| DVD Player | 350w |
| TV | 120w |
| Electric Grill | 1650w |
| Fan | 40w, 120w |
Sound Level of the Generator
This is very important because you do not want a loud generator that gets on your's or your fellow campers' nerves. Rving and camping should always be enjoyable for everyone, and a loud generator destroys that enjoyment. A quiet generator means fewer unwanted interruptions while out enjoying nature. Choosing a quieter model also makes it easier to sleep at night.
Generator fuel type
There are many different types of generators on the market and each generator has a certain type of fuel that is needed to run it. There are choices between 3 different fuel types, namely, gas, diesel, and propane. Gas being the most popular and more easy to obtain of the 3.
Gas: Gasoline and propane are both flammable liquids that are derived from petroleum products. Each of these two fuels contains oxygen and hydrogen atoms. These elements create the chemical formula H2O (water). When mixed together, they produce heat and fuel. As mentioned before, gasoline is a mixture of hydrocarbons, while propane is composed of carbon and hydrogen molecules. If the ratio of these components is right, then their combustion produces only water vapor and no harmful emissions.
Diesel: Diesel oil, or diesel fuel, is a refined version of crude oil. A diesel engine uses a small amount of diesel oil to start its operation. When the engine starts running, it burns additional fuel to generate power. Most diesel engines are fueled by kerosene, though some operate on natural gas. Kerosene is a heavy liquid that is mainly made up of paraffin waxes and aromatic compounds.
Propane: Propane is a colorless flammable gas. In addition to the above-mentioned qualities, propane is considered non-toxic. It also does not pose any danger to human beings if it comes in direct contact with skin. However, if inhaled in high concentrations, it could cause respiratory problems.
How easy is it to use
This is a major factor to consider when purchasing a generator. You wouldn't want to purchase a heavy or large generator that you or anyone you know can't easily move around if you plan on taking it camping.
Size Of The Fuel Tank
The size of the fuel tank is extremely important to know before purchasing your generator. A good rule of thumb is to have at least 2 gallons of fuel capacity per hour of runtime. If you plan on running your generator for long hours each day, then make sure you buy a generator with enough fuel capacity to last a full day without refueling.
Warranty
Look for a generator that comes with a warranty. You'll need to contact customer service to determine what kind of warranty is included. Sometimes warranties cover repairs, while others cover replacements.
Reliability and Durability
A reliable generator is one that does what it says it will do. You want something that won't break down after using it for several years. Look for units with high-quality components that won't wear out easily.
Size And Weight
If you plan on storing your generator outside or taking it camping, size is important. Make sure the unit is big enough to handle whatever you may need. If you're going to be carrying it around, weight is important. You don't want something that is too heavy.
Safety Features
Safety features are always a plus. You want something that is safe to use. Don't buy anything that has mercury switches or other hazardous parts. Look for a generator that is UL listed. That means it meets safety standards set by Underwriters Laboratories.
Price
Price is always a factor. Choose a generator that fits your budget. You'll get what you pay for. Look for deals online or at local stores. Keep in mind that some manufacturers sell their products at lower prices online.
How does a camping generator work?
A camping generator is a portable device that converts fuel into electricity. The device can be powered by propane, gasoline, or sometimes even solar energy. Solar energy generators are however usually less powerful than the conventional camping generators, but some of them still have the power to run many appliances.
They are mainly used to generate electricity for camping equipment such as refrigerators or lights, cell phones and other modern camping accessories.
How quiet or loud is a camping generator?
A camping generator is generally considered quiet when it runs at 60 decibels or less. It maybe hard to tell the difference between a 50 decibel and a 55 decibel noise
The noise level of camping generators will vary depending on the type of generator it is, and the amount of power it can supply. The camping generator with the lowest amount of power tend to be quiet, while camping generators that can supply high amounts of electricity are generally louder.
There are three types of generators. Below you will see a list of all three.
Generators with noise level less than 120 dB
Generators with noise level less than 75 dB
Silent/Soundproof generators
Here is a table showing the permissible noise level in different locations.
| Zone | Permissible noise level standards in the daytime (dB) | Permissible noise level standards at night (dB) |
| --- | --- | --- |
| Silent Zone | 50 | 40 |
| Industrial Zone | 75 | 70 |
| Residential Zone | 55 | 45 |
| Commercial Zone | 65 | 55 |
Startup Versus Running Wattage
Startup wattage refers to how much power your device draws during startup. Once your device starts drawing electricity, its running wattage increases over time.
Running wattage is the total amount of power consumed by an electronic device while actively being used.
What Is A Solar Generator?
Solar generators are devices that use sun-heated air to create electricity. These types of generators are often called thermal collectors, which means they use heat to create power.
Pros
Pros of using a solar generator in your home include:
No fuel costs

You do not have to buy or burn any fossil fuels to generate energy.

Safe

There is no combustion involved. Your house stays cool during the summer months, and doesn't smell like smoke.

Easy to use

All you need is sunlight.

Affordable

When compared to other forms of renewable energy, these systems are quite affordable, even for those who live in remote rural locations.
Cons
Cons of using a solar generator include:
High maintenance

Solar generators require regular cleaning and repairs. They should not be left unattended for long periods of time.

May not produce enough power

If your house gets less than 10 hours of direct daylight per day, then you may find it difficult to produce a sufficient amount of electricity.

Requires a lot of space

Since solar generators use mirrors or lenses to concentrate the sunlight, it takes up a lot of room.
What size generator do I need for camping?
In general, you can power most items you brought camping with a 2000-watt inverter generator. This means that you do not have to go out and buy the most expensive or most powerful generator on the market. If uou wanty to find out more about this topic , then visit what size generator do I need for camping.
How To Connect Your Rv To Your Portable Generator?
For the best performance possible, it's imperative to connect your RV generator directly to the power source that powers everything in your RV. There are many options for connecting your RV generator to the power source. When choosing what type of connection to use, it is important to consider how much load you have connected and where the loads live.
Size of Connection Cable
If you are running a long distance between your RV generator and your power source, then having a larger cable can help prevent overheating and reduce potential hazards caused by a shorter length of wire. Larger cables will also make the unit easier to handle and carry around.
Load Factor
The load factor can vary greatly depending on the type of RV you are driving. However, to keep things simple, I'll assume that the load factor is 50%—50% of your RV will always be connected.
This means that half of your RV's electronics will be connected (e.g. refrigerator, air conditioner, lights, etc.). If you have a gas stove, oven, range, microwave, electric water pump, refrigeration compressor, and a few other devices, then it is highly likely that you will only have one side of your RV connected.
When comparing RV generators with different output ratings, you will need to choose the highest rated generator based on the number of RV loads you plan on powering.
Steps To Follow
Grounding Rod

First step drive the grounding rod into the earth. Most campsites have a grounding rod already installed. If not, then you'll need to dig a hole big enough to hold the grounding rod.

Grounding rods are designed to provide conductivity between our power system and earth ground potential. In order to ensure reliable and safe operation of the generator, we need to make sure that there is sufficient electrical connection and continuity between the negative terminal (earth) and the positive terminal (ground). A grounding rod should be no less than 8 feet in the ground from your portable generator.

Connecting the grounding rod to the generator

If you've located the grounding rod correctly, you'll now have to connect the grounding rod to your generator. All generators use the same type of connection, but they have different colors. Typically, they are black (ground), blue (neutral), yellow (hot), and green (live). Again, these color codes don't indicate anything about the voltage output; they just identify the purpose of each wire.

You'll know which wires belong to which function based upon what color code they have on them. Ground wires always have a black color. Neutral wires always have blue colors. Hot wires always have yellow colors. Live wires always have green colors.

Grounding rods are almost always attached to the water pump circuit breaker box (the area where you turn off the electricity to the water pumps). In the case of a generator, you'll find the wires connected to the grounding rod on the back side of the generator. Simply remove the faceplate covering the circuit board and locate the four wires leading to the grounding rod. Attach each wire to its corresponding terminal. Be sure to label each wire appropriately.

RV Exhaust System Connection (If on the inside).

Once you've completed connecting the ground wires, you'll have to route the exhaust system properly. Check both the outside and inside of the RV to ensure nothing is blocking the exhaust flow. Once you're satisfied everything looks good, you're ready to plug in the RV's generator.

Plugging in the RV's generator

Most RV generators come with a plug and cord that connects directly to the generator. Plug the generator into the RV's wall outlet and turn on the RV generator. On some cases, the RV generator may need to be plugged into a separate power strip/power brick before plugging into the wall outlet. Plug the RV generator into the wall outlet using the proper connections listed above.
6 Major Features For Camping Generators
Low-Oil Shutoff
The first feature I would look at is the low oil shutoff. There are two major reasons that you want to avoid having the generator run dry. First off, the engine will overheat if left running without oil and will have engine damage. Additionally, diesel engines tend to start smoking and burning out if they aren't getting regular flow of oil. If you do end up using the generator, make sure that you shut it down after use.
You usually want to check oil levels before each use.
CO shut off
If you have ever been camping, then you know how much the campfire can stink! You need to turn off the fire before leaving your campsite, but if you don't have access to electricity, you'll want a generator with a built-in carbon monoxide (CO) sensor to help ensure safe operation of your generator. All generators should have a gas shut-off valve to prevent dangerous levels of CO from building up inside the engine. If the generator does not have a built-in CO shut-off, it may require a separate carbon monoxide detector. These devices work by detecting minute amounts of CO in the air. Because these detectors measure the concentration of CO over time, they're useful even if the generator has started while you were away. But make sure to keep the generator running for at least 20 minutes after you've turned off the stove or heater before taking it out of storage to allow any residual fuel to burn completely.
Alternative fuel capacity
Alternative fuel capacity refers to how much alternative fuel (such as gas) the generator can hold at once. A larger tank means that the unit can run longer before needing to refuel. As long as you have enough fuel left when the power goes out, you should be able to stay warm.
Automatic start
An automatic start is ideal for campers who want to head out early without having to worry about starting their generators. There are two types of automatic starters: thermal and mechanical.
Thermal starters rely on thermal elements that use heat generated by friction between rotating cogs to ignite the gasoline. Thermal starters do not need any external force to trigger the flame, but they may fail when wet. Mechanical starters use springs and levers that operate much like a clockwork mechanism.
Multiple Outlets
Multiple outlets are very important if you are camping and need electrical power outside your tent at night. Many people do not realize just how powerful some camp generators are. If you have ever seen a camp generator in use you would know they produce a lot of electricity. When using these types of generators, make sure you have plenty of outlets to plug into for charging and operating many different devices.
Mechanical starters are generally more reliable than thermal starters and have long lifespans. However, these generators require manual operations, which means someone needs to manually wind the spring each time the machine is turned on. If the user forgets to wind the spring before heading out, the generator won't start.
Inverter
Inverters convert DC power into AC power. They are commonly employed in appliances like CD players and hair dryers. An inverter converts low-voltage DC power (12 volts) into higher-frequency AC power (120 volts).
However, in order to create high-powered AC power using low-level DC, inverters rely on semiconductor devices called transistors. Transistors turn signals on and off as computers instruct the inverters to perform certain tasks. A camping generator with this feature is necessary to run many different devices.
Conclusion
Generators are perfect for taking on a camping trip. However, be sure to choose one that has a low dB rating as people might get irritated with you running a high dB rating one. Generators offer the luxury of keeping all electronics in your campsite fully charged and you can even use it to help the neighbor that forgot their generator.