Tent camping at the Florida Keys
The Florida Keys is a wonderful place to camp. You will not believe how fun number 5 is on the list.
The Seven Mile Bridge
This is the centerpiece of the Florida keys, and many people from all over the world just to travel across it. The Seven Mile Bridge is one of the longest in the world and runs throughout the entire island. Fun fact about the Seven Mile Bridge is that it is not actually 7 miles long, it is actually 6.79 miles in length.
Free Camping Florida Keys
There are a couple parking lots that permit totally free 24-hour parking. You should not just pop the top of your truck camper to be so obvious to what you are doing. Be discreet, then you can usually sleep in any parking lot that permits totally free parking. You will likewise be informed that there were roadways'behind the Leo's Campground' on Stock Island. Thee Leo's campground is where individuals, consisting of Recreational vehicles, were seen outdoor camping for weeks or merely days at a time.
Places you can no longer free camp
Ramrod Swimming Hole
Complimentary outdoor camping (or any outdoor camping) is no longer permitted at the Ramrod Swimming Hole.
Long Key Camping

Location 67400 Overseas Hwy. Long Key FL 33001 .

The Long Key Campground is on the Atlantic Ocean and is perfect for a getaway. The weather is always great all year round for you to go boating or to enjoy any other type of fishing activity. Many people from all across the country come here to just enjoy the birdwatching possibilities. The best season to take the Golden Orb Trail is during the fall. If you choose to go birdwatching during this season, you will have the chance of seeing some very rare birds. If you want to take a more peaceful trail then I would suggest taking the shorter Layton Trail. One thing you must be sure to bring to any trail you choose is bug spray.

In the year 2017, Hurricane Irma damaged this campground and it is currently under redevelopment.

Amenities:
Camping
Fishing
Geo-Seeking
Picnicking
Snorkeling
Star Gazing
Swimming
Wildlife Viewing
Walking and Running
Bahia Honda State Park
Location 36850 Overseas Hwy, Big Pine Key, FL 33043.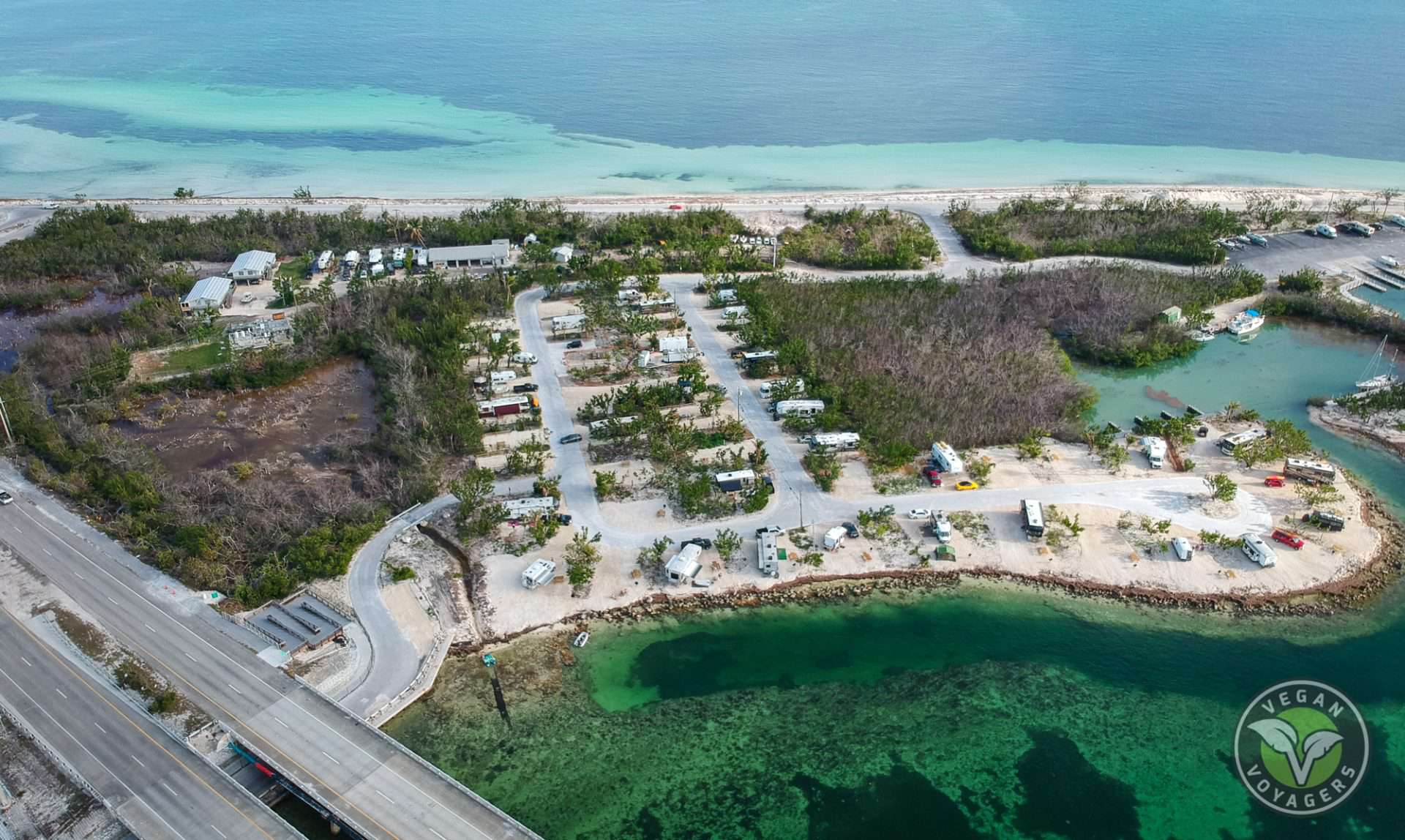 The Bahia Honda State Park features an award-winning bridge "The Bahia Honda Rail Bridge" which is very historic and gets many tourists to just come and look at it and take pictures. This state park sits on 500 acres of land. You can go to the offshore island to get offers such as beachcombing and snorkeling. There is also a concession service provider that offers a snack bar, a gift shop, daily snorkeling tours, and kayak rentals.
Activities:
Camping
Lodging
Kayaking
Bicycling
Fishing
Gift shop
Swimming
Boyd`s Key West Campground
Location 36850 Overseas Hwy, Big Pine Key, FL 33043.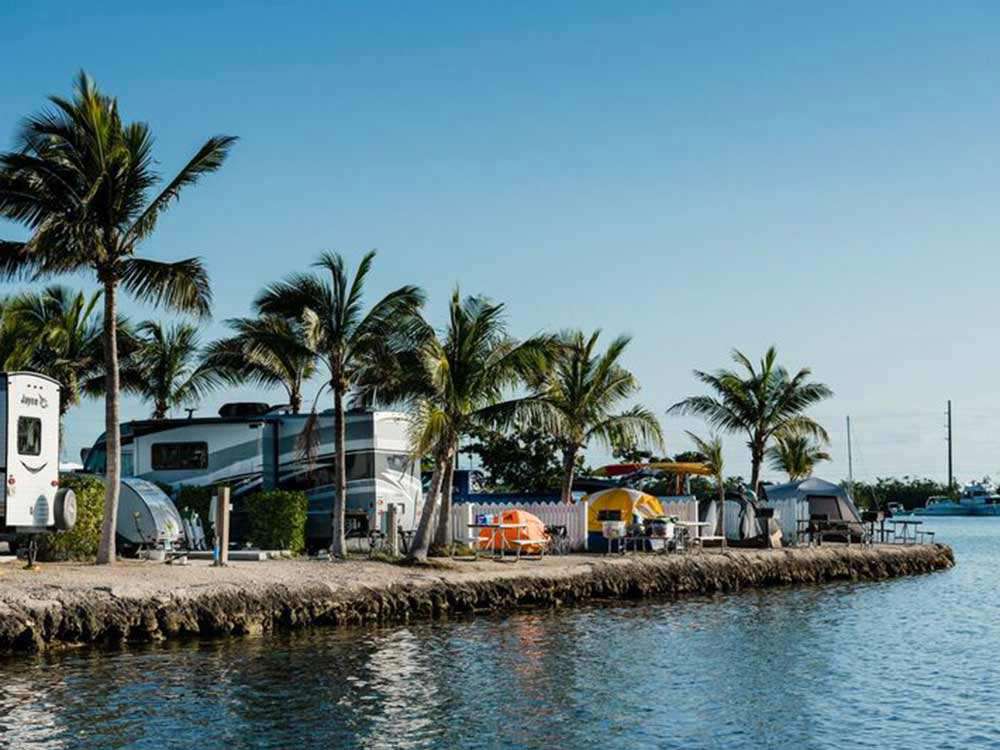 This campground is only a few minutes from civilization and has all the major and minor amenities that will keep you and your family occupied. If you need to relax then the Boyd`s Key West Campground has a heated pool (in the cool months) that can take all your stress away. There is also the option of snorkeling for all of those people who like animals of the sea. You can also bring your own boat as there boat ramps and docks that you will have access to. Kids will enjoy this campground because there is a games room and for the older kids there is a big screen tv and a poolside Tiki Hut.
Activities:
Beautiful Landscaping
Bike & Walk Paths
Boat Ramp
Coin-op Laundry
Fish Cleaning Station
Large Swimming Pool
Boating
Boating Nearby
Fishing Area
Fishing Pier
General Store
Mail Center
Pets Welcome
Picnic Pavilion
Pool Table
Restrooms/Showers
Security 24hrs
Wi-Fi
Game Room
Marina
Jolly Roger RV Resort
Location 1 59275 Overseas Hwy, Marathon, FL 33050.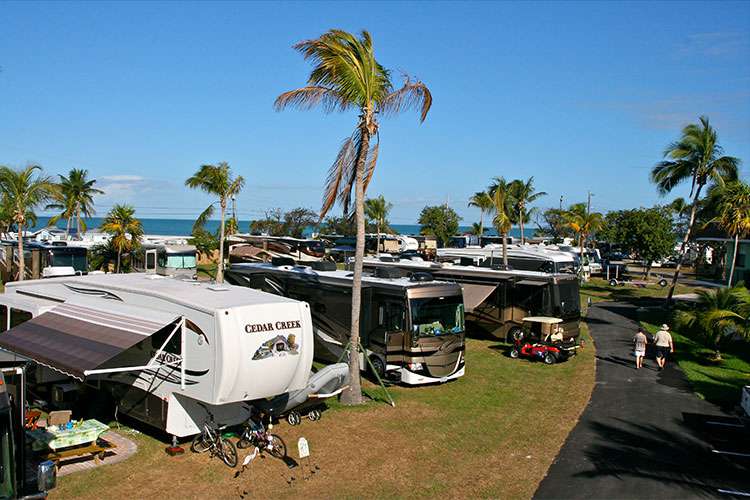 The Jolly Roger RV Resort sits on a little over 11 acres and gives you access to more than 160 Full hookup sites. Be prepared to receive 50 amp electricity. Most sites here are very spacious, grassy, and shady. One great feature of this rv resort is the friendly staff that makes you feel more than welcome. There are many local attractions close by that will keep you busy for days, weeks, or even months. Some of these attractions include: DOLPHIN RESEARCH CENTER, AQUARIUM ENCOUNTERS, CRANE POINT MUSEUM, PIGEON KEY FOUNDATION & MARINE SCIENCE CENTER, THEATER OF THE SEA (ISLAMORADA MM 84), KEY COLONY BEACH GOLF COURSE, CURRY HAMMOCK STATE PARK, SOMBRERO BEACH PARK, and COCO PLUM BEACH PARK.
Amenities:
Swimming Pool
Gulf Swimming & Snorkeling
Boat Docks & Harbor Sites
Clean Restrooms & Laundry
Covered Group Pavilion
Bark Park
Activities:
pull-through Sites
Pets Allowed
Electric 50 AMP Hookup
Tent Camping
Connectivity:
Leo's Campground
Location 5264 Suncrest Road Key West, FL 33040.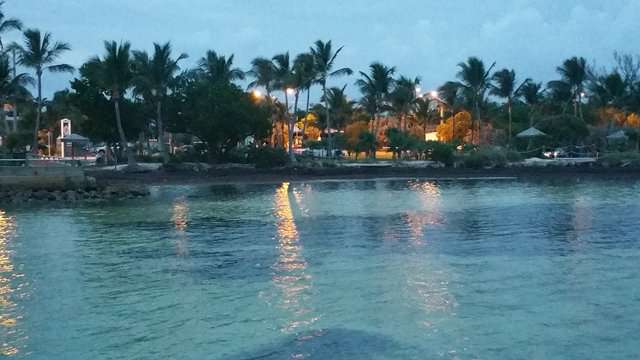 The Leo's Campground has been serving campers for over 40 years and has always had some of the friendliest staff ever. It is located roughly 1000 feet from Key West and is located at mile marker 4.5. This campground has a 4 out of 5-star rating on TripAdvisor and is said to be the cheapest campground in Key West. You can choose to do tent camping or Rv sites as this campground offers both. If you want to visit some of Key West's Historic Areas, then The Leo's Campground is only a few minutes away from beaches, Duval Street, dive shops, restaurants, airport, fishing charters, and many more.
Amenities:
Free parking
Pets Allowed (Dog/Pet Friendly)
Free High Speed Internet (Wi-Fi)
Concierge
Self-serve laundry
Public Wi-Fi
Children Activities (Kid/Family Friendly)
The Florida Keys has many different places to visit and to keep the whole family busy. If you ever want to have a getaway from the struggles of everyday life, then this is the place you want to be. Just choose any of the many different resorts to have somewhere to stay and enjoy all the activities from those resorts you chose or activities from the nearby attractions.
Things to do at the Florida Keys
When the temperature in many parts of the country start to drop, it's time to head south to the Florida Keys for some sun and surf. This popular destination is a short drive from Miami and offers a variety of things to see and do.
Go Fishing

The Florida Keys are a popular fishing destination with anglers from around the world. When you're not relaxing at your campsite, you can rent a boat or charter a guide and get in on the action.

There are many different species to catch at the Keys including yellowtail snapper, blackfin tuna, blue marlin and mahi-mahi. If you're looking for something more laid back, there are plenty of saltwater piers where you can fish without the need for a boat or license.

If you need extra help finding fish while you're out, try out one of these great fish finders.

Tourist Attractions

If you want to see some of the history of the islands, then check out some of the tourist attractions that they have. For example, you can visit Ernest Hemingway's House or Mallory Square where they have daily sunset celebrations.

Swimming with dolphins

You can swim with dolphins at Theater of the Sea (theaterofthesea.com) in Islamorada, Florida. The park offers supervised dolphin encounters that include swimming with dolphins and other marine animals, such as sea lions, stingrays and sharks.

Go sailing

You can go sailing on the Spirit Catcher (spiritcatchercharters.com), a 78-foot schooner based in Key West, Florida. The boat is equipped with a full galley, a fridge and four cabins with private baths and air conditioning. The boat's crew will prepare your meals or you can provide your own food if you prefer.

Explore the coral reef

The coral reef off the coast of Key Largo has been called America's only living coral barrier reef. The John Pennekamp Coral Reef State Park (pennekamppark.com) is located on about 70 nautical miles of this reef system and has several camps.
You can enjoy a group camping over there. There is plenty of space to set up a 12 person camping tent.
Bonus Rv sites and campgrounds in the Florida Keys
BOCA CHITA KEY CAMPGROUND

Location: Miami, FL 33155

The BOCA CHITA KEY CAMPGROUND is the most northern campground in the Florida Keys. This campground is known or remembered by its unforgettable boat-in vibe and its amazing lighthouse. If you want to stay at one of the most busy campgrounds in the Florida Keys, then this is the place for you.
When camping here, bring your own source of water as there is no drinking water or electricity available
There are no sinks or showers available
Docking at this campground overnight will cost $25 and is assessed between 6pm - 6am.
Pets are not allows unless they are service pets.
There is an observation deck that is 65 feet tall that provides fantastic view of the islands
There is a half mile hiking trail that starts east of the restrooms. This trail leads to the island's south end and ends near the pavilion
Bring Mosquito repellant as they will be here all year round
Subscribe
Stay updated with our newsletter
Fiesta Key RV Resort & Marina
Location: 70001 Overseas Hwy, Layton, FL 33001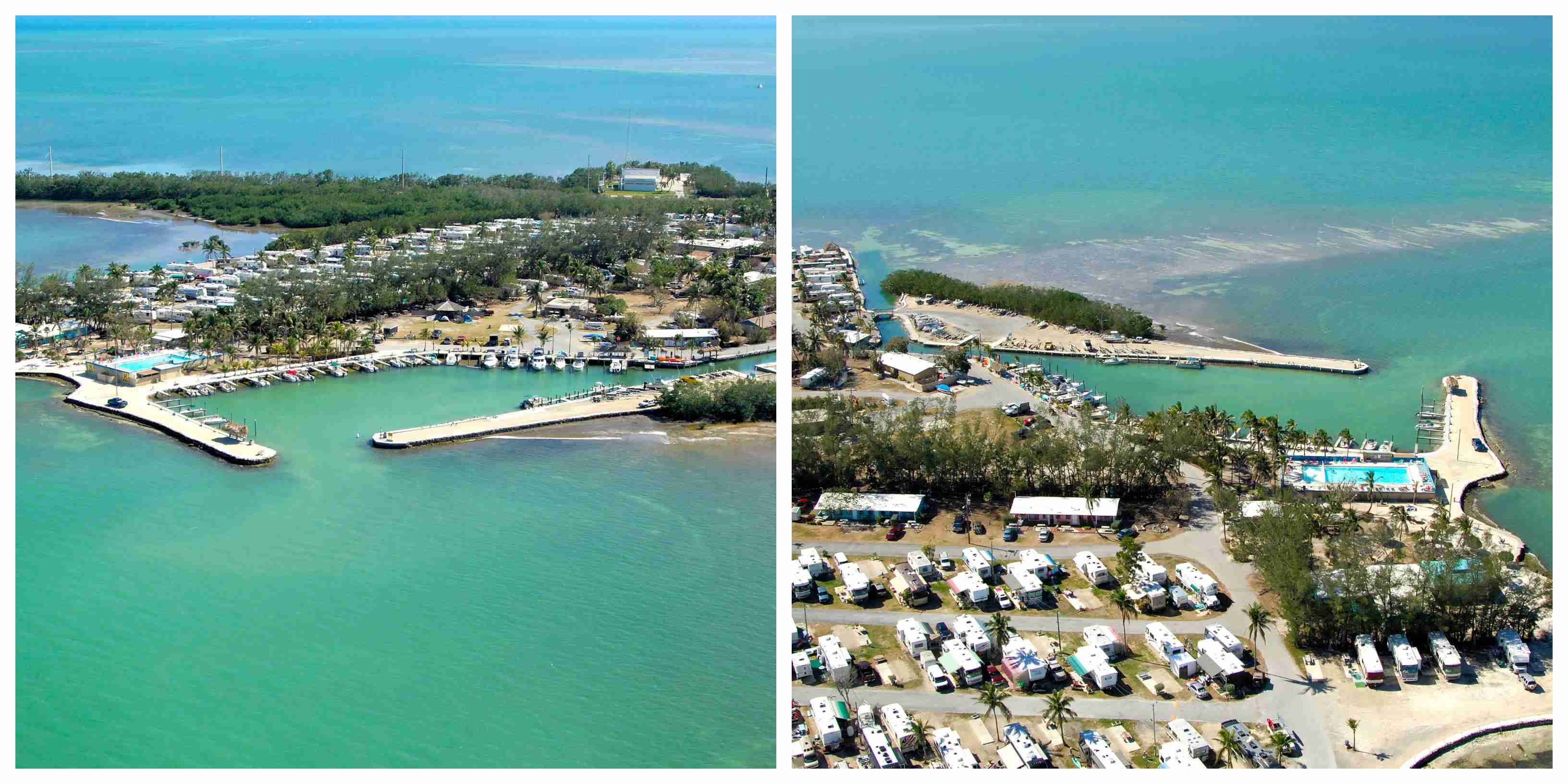 Located in the heart of the Florida Keys, The Fiesta Key RV Resort & Marina is a favorite getaway spot for people from across the world. You have the option of checking into one of the rentals provided, hooking up your rv, or setting up your tent. There are many different amenities to enjoy like free Wifi, spa, restaurant, pool, beach bar, and many more.
If you want to explore the surrounding areas, then I would suggest visiting the Long Key State Park, the Bud'N' Mary's Fishing Marina, and the Dolphin Research Center.
Amenities:
Boat Launch
Beach Access
Cable TV/Satellite
Boating/Canoeing
Basketball
Dump Station
Camp Store
Dog Park
Pet Friendly
Fishing
Credit Cards Accepted
Horseshoes
Hot Tub/Spa
Volleyball
Planned Activities
Internet/Wifi Available
Playground Facilities
Restaurant
Swimming Pool
Recreation Hall
Features at the Fiesta Key RV Resort & Marina
Accommodates Double Slideouts
Electric 30 amp
Electric 50 amp
Family Friendly
Full Hookup Sites
Other Rental Accommodations
Pull Thru Sites
Tent Sites
Waterfront Sites
All Resorts and Campgrounds In Florida
Barrington Hills RV Resort
Pompano Beach, FL
Flagler Beach, FL
Clerbrook Golf and RV Resort
Clover Leaf Forest RV Resort
Crystal Isles RV Resort
Crystal River, FL
Fiesta Key RV Resort and Marina
Forest Lake Village
Fort Myers Beach RV Resort
Gulf Air RV Resort
Gulf View RV Resort
Harbor Lakes RV Resort
Highland Woods RV Resort
Holiday Travel Park
Lake Magic RV Resort
Miami Everglades RV Resort
Orlando RV Resort
Peace River RV and Camping Resort
Pine Island RV Resort
Pioneer Village RV Resort
Ramblers Rest RV Campground
Riverside RV Resort
Rose Bay RV Resort
Royal Coachman RV Resort
Sherwood Forest RV Resort
Silver Dollar Golf, Trap Club and RV Resort
Southern Palms RV Resort
Space Coast RV Resort
Sunseekers RV Park
Sunshine Holiday Daytona
Sunshine Holiday Ft. Lauderdale
Sunshine Key RV Resort and Marina
Sunshine Travel RV Resort
Terra Ceia RV Resort
Three Flags RV Campground
Toby's RV Resort
Topics RV Resort
Tropical Palms Resort
Vacation Village RV Resort
Winter Garden RV Resort
Winter Quarters Manatee RV
Winter Quarters Pasco RV Resort
Best Tent Fumigation Companies in the Florida Keys
Fumigating your tent is the best way to start and end a camping trip. It ensures that there will not be any insects in the tent before you use it, and after you use it. Here are some of the best tent fumigation companies in the florida keys.
Hammerhead Termite Control
Conclusion
I think it is safe to say that tent camping at the Florida Keys, like the myriad of adventures waiting within, is great for anyone who wants a bit of adventure. It's for people who are ready to get away from all their day-to-day responsibilities, who are ready for good food and plenty of relaxation, and most importantly, people who are ready to take control of their own adventure. So why don't you call up that special someone and plan a trip? As long as you're both ready to time to disconnect from all your responsibilities, then tent camping at the Florida Keys can be a fantastic introduction to the power of the outdoors.