What is boondocking? And what it isn't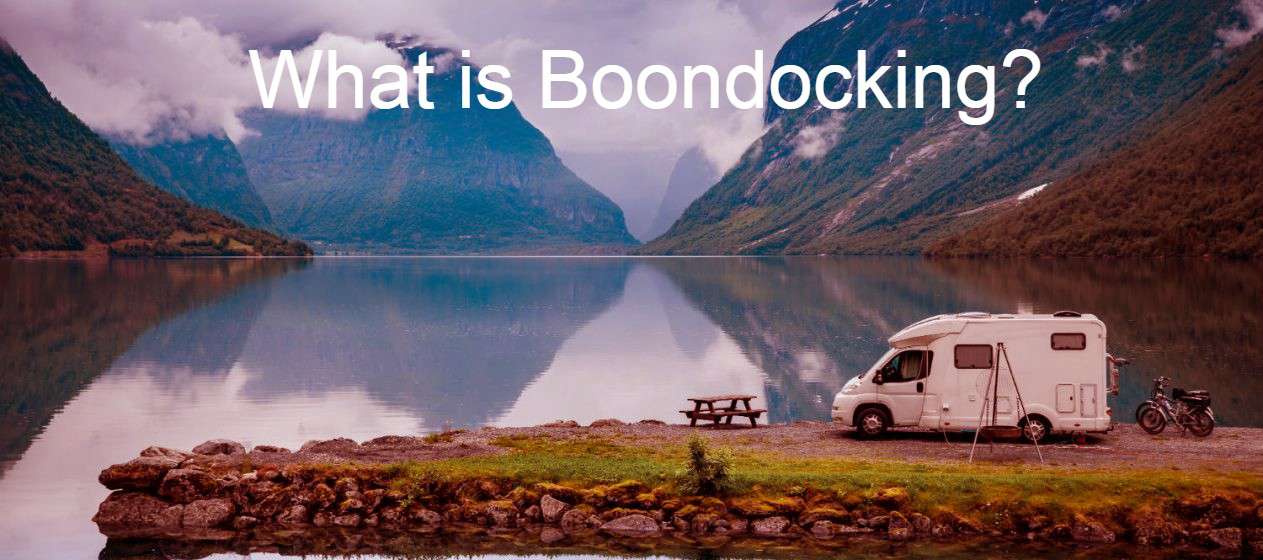 Boondocking, often called dry camping, is the process of going camping without any electricity, sewer hookups, or water. You will also hear it being referred to as dry camping. his usually has its advantage of not having to deal with neighbors and having all the privacy in the world. Boondocking is usually free and has been getting more popular among rvers in recent years.
For anyone who is about to get started with RVs, one question that they will always come up with is "What is Boondocking". This is a word that seasoned rvers will just casually work into any conversation and might throw off newcomers. This word would not be used unless it is about some form of camping or RVs.
Boondocking tips
Obtain permission from someone qualified to give that permission.
Keep personal items inside your rv.
Try not to use slide-outs.
Make sure your area is left clean when it is time to leave.
Do not abuse the generosity of others.
Make sure you do not use your hydraulic jacks on asphalt.
Keep an eye on your grey tank capacity.
Conserve water.
Manage trash disposal wisely.
Keep an eye on the weather in the area.
Rules for Boondocking
Staying Safe: The number one priority when boondocking should always be to stay safe. Choose where you boondock wisely and if possible do research on the area you plan on boondocking to see if other people have boondocked there before. Make sure you are legally allowed to boondock in that area so you do not get caught trespassing on private property.

Your rv size: You will find that many places are big rig friendly, some more suitable for smaller vans or RVs, or some having accommodations for any size. It is always a good idea to check if there are any reviews on the boondock or make sure you use a smaller vehicle like a car or truck to scout the location. You do this so that if you get stuck in the small vehicle, it will always be easy to get it unstuck, unlike an RV. I once saw a quote saying "Just because it's listed doesn't make it accessible, and just because it was accessible to a big rig last week doesn't mean it's still accessible." This quote comes into play with the weather in mind.
Weather Conditions: It's always best to plan your trips as driving into a boondock during the summertime will be different than in the winter season. Frequent weather changes can cause problems for RVs as they are heavy and are more susceptible to getting stuck in the mud or just plain wet dirt. If you do decide to boondock somewhere that has a river, make sure you are not parked too close to the said river as you will need enough time to evacuate just in case the river rises with any type of rainfall.
Turning around: This is a simple thing to consider as you will want to know how easy it is to exit a Campground when it is time to leave. You wouldn't want to know that you have a 25-foot rig that is extremely hard to maneuver in certain spots of a campsite when it gets to full capacity. It is always a good idea to walk the campground and plan your exit strategy. You will never be happy to realize that it is impossible to turn your rig around in places like boondocks after you have made the trip down a 15-mile road. Nobody wants to reverse a 25-foot rig for 25 miles. An option will always be to go on google and possibly find reviews on the campsite you plan on staying. There will usually be at least one person on some forum who will either talk about how easy it was to enter and exit the campsite or how hard it was.
Things needed to boondock comfortably
When you go boondocking, there are some things that will make it easier. Below are some things you should have with you to make the experience more enjoyable.
Portable Sewer Tote

This item makes it easy for you to dump waste from your rv. You simply hook your dump hoses to the portable sewer tote's inlet just like you would at any dump station. You then open your dump valve to let out all the waste from your rv. This makes it easy for you to only bring the tote to an rv dump station instead of having to drive the rv. This tote can be towed by a regular vehicle.

Generator

A generator will make life so much easier. Try to buy one that is as quiet as can be. You do not want to have a generator running that might be a nuisance to others that might be close by. These days, there are generator that emit next to no sound. There are also powerbanks that offer an AC outlet and plenty of run-time.

Jugs (Portable)

Having a couple portable jugs will allow you to bring extra gallons of water for your fresh water tank. This will allow you to boondock for much longer. All that is needed to do is replenish the amount of water you use out of the fresh water tank daily by using the extra water you bring in the jugs you brought.
Rv Nomads You Can Follow
Here is a couple that have taken up the life of being rv nomads. They travel around the country boondocking in some amazing places. Join them as they share their experiences.
3 Different types of Boondocking
Overnight Stay.
Wallydocking: Boondocking at Walmart
This type of boondocking isn't the most glamourous but it is the simplest. This is where rvers park in parking lots like Walmart and stay for the night and be on their way in the morning. One thing to note is that parking lots do not provide any amenities like hookups or water outlets. Some places do not even allow boondocking. You have to do your research before choosing a parking lot to stay for the night.
This type of boondocking is becoming very popular. This is where you plan a visit with a friend who has a big hard on your way to your final destination to store your RV for the night. This usually gives you an opportunity for you to catch up on old times and reminisce.
No Hook-Ups on a Developed Campground

Not all boondocking is free of charge as you can find reservations that offer boondocking at a cost. However, it is always possible to find campgrounds, sometimes privately owned campgrounds, offering that offer sites without hook-ups. These types of stays usually come in at a really low nightly price compared to luxury RV resorts. Keep in mind that you are ultimately only paying for the spot, you will not have the luxuries of water, sewer hook-ups, or electricity.

People usually stay more than one night at these types of sites because of the low cost. If you decide to do the same thing then it would be wise to plan ahead. Make sure you have enough water for the length of stay and also make sure your RV's batteries are all charged. Bring enough food to last 3 days more than the amount of time you planned on staying. You want to know the quiet hours that have been set by the owners so you will know the times allowed for you to use things like generators.

Undeveloped Campsite
These types of campsites are what new rvers fell more nervous about as these types of campsites do not come with any type of services. There will not be any types of hook-ups, dump stations, or camp hosts. At this point, you have to consider yourself as being completely off the grid and completely self-reliant. These types of campsites can be found on the United States Forest Service (USFS) website or on BLM website.

These types of campsites are usually found by following special markers or old fire rings. These will show you where camping spots are located. The immense amount of planning required to stay on these campsites is usually rewarding as you will most likely have the place to yourself or have only a few neighbors.
Benefits and disadvantages of boondocking
Going boondocking or dry camping has its benefits and disadvantages. Here you will find some of both.
Benefits
Dry camping is free

Going to a regular camping location will put you back anywhere from $20 to $90 per night. However, dry camping is all free. No fees attached.

More Privacy

Camping on your own without everyone else around you can be very enjoyable. You get to have privacy that most regular camping areas cannot offer.

Less Restrictions

When you boondock, you do not have to follow rules set by a company. There are however some rules that are just common sense, like cleaning up before you leave a site and try not to be a nuisance to anyone who might be camping close to you. The fact that there is no restriction set for you to follow is the reason why many campers choose boondocking over other forms of camping.
Disadvantages
More work needed

Remember that boondocking or dry camping offers no electricity or water. This means that you will have to provide those amenities for yourself. There is also no hookups. You will have to tough it out by bringing items like gas generators and water storage container.

Need to bring more items

You will have to bring way more items with you than if you were going to a developed campground.
Writings or stickers on your rv
One thing you need to know is that while you are out, you do not want strangers at rest stops or diners to think that you are an easy target. Never leave the name of your home town or your name on any part of your RV. Slogans like "Home is where the heart is" and "I get my electricity from the sun" will only let strangers think you are an easy target because you probably have every valuable you own on the inside of your RV. What I would suggest is to get stickers on your windows showing "NRA" or "Smith and Wesson" to deter trouble makers. However, these types of stickers might draw unwanted attention from law enforcement and an explanation will be needed if you do get pulled over by one.
How safe is boondocking?

Never let anyone tell you that boondocking is unsafe and shouldn't be done. It is a known fact that boondocking is way safer than living in the city. Most crimes happen in the city as that is where most businesses are and most valuables.
Steps to find Boondocking locations
Locations for boondocking are everywhere across the United States. It is up to you to choose which one is right for you and do the research of the location before you go. Some places that were known to offer boondocking have recently stopped offering that service and is only in your best interest to research before making a trip to one of these locations miserable.
Pull up the Google Maps App on your Cellphone or Computer.

You can download the Google Maps Application on both Android devices and also Apple devices. Whenever you're using a computer, you can just type https://www.google.com/maps in your browser and that said browser will bring up a view of Google Maps Online.

Search for big plots of land (Preferably Green Plots)

Use the Maps application to search for any big plot of "green" land. It doesn't matter if there are a few green plots with signs of homesteading.

Do research on which areas are open for free camping.

There are many plots of land that are offered to the public free of charge when camping is concerned. Some organizations that offer such lands for free camping are National Forests, BLM Land, State Forests.

Some other lands are offered to the public at a reasonable fee. Some of these lands are controlled by organizations such as State Parks, Game Lands, National Parks, Animal Preserve Lands.

Try to find roads that off-shoot through a forest.

This is when you need to zoom in with the Maps app to have a better view of the terrain. You will have to look for main roads that off-shoot into some type of area that has a Forrest. Once zoomed in on the Maps app, it should be easy to locate off-shooting roads. These types of roads usually lead to huge plots of land that can be used for boondocking.

Turn Terrain Mode on.

When you turn this option on in the Maps app, it gives you a better idea of how accessible the plots of land are for your rig. Some rigs can handle rough terrain while others can't, so be sure to do the necessary research beforehand.

Go out and enjoy.

This step is simple, just go out and enjoy yourself.
Sources Of Electricity
When you go boondocking, you will most likely need to have some sort of electricity hookup. Having the ability to charge devices up or have lights is a good feeling when you are out camping. There are some precautions to take in order to conserve electricity. Below i will be going over some of the things you can do to conserve.
Use propane for your refrigerator
Do not use the furnace unless it is absolutely necessary
Unplug electronics when they are not in use
Try to spend most of your ime outside
Use a regular 12V fan instead of running your rv's air conditioner
Use an outdoor oven, stove, or grill for cooking
Try to charge your gadgets in a regular vehicle instead of in the rv
Change all your lights form regular lights to LED
Solar Power

Making use of solar energy needs much more than simply solar panels. You'll likewise need some sort of way to keep track of the quantity of power you have stored. You will also need an inverter.

No matter the kind of batteries your Motor Home utilizes, you require a means to charge those said batteries. Solar power is a great way to keep your batteries charged while you are out boondocking. Solar power adds a good benefit of being quiet while you are out camping unlike generators.

Battery Setup

Having a means to power your devices is great, but what about all the other things you need a battery for? You need a battery to run your water pump and your lights. It is always best to have a battery setup in a configuration that turns it into a battery bank. This allows you to store more power in your rv for longer periods of time.
Conserve your water
Here are some locations you can go for boondocking or dry camping
Cascadia State Park, Oregon

There are 25 first-come, first-serve primitive camping areas available here. The western incline of the Cascade Mountains offers many different choices of places to boondock. There are looming Douglas-fir trees that will offer shade as you travel along the trails here. Many people love the hike to the sparkling South Santiam River where they enjoy fishing. After fishing, why not visit the Soda Creek Falls.

BLM Land South of Joshua Tree National Park

This is BLM land and it offers many different locations for you to camp. If you are into any type of desert scenery, this is the place for you as the desert views here are amazing.
Conclusion
The definite answer to what is boondocking has been stated as going camping without any amenities provided by the camping location. You will be on your own so be prepared by making a list of everything you will need to be comfortable while you are out. Now go forth and find some boondocking locations.