Oak Creek Canyon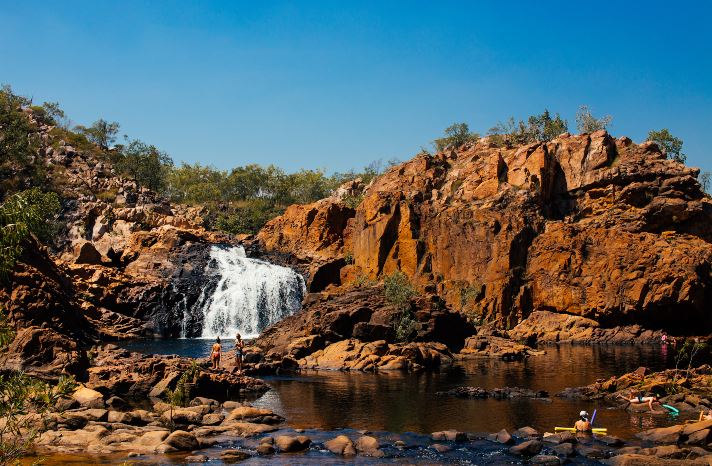 This is one of the most beautiful spots in Arizona. It is often referred to as a jewel because of its natural surroundings, which include rock formations and waterfalls. If you are looking for some quiet time away from the busy city life, then Oak Creek Canyon may be just the place for you.
Time has been able to create some very interesting features on the canyon walls. The rocks have weathered over time and created many blades that extend outward into thin air; others show evidence of erosion when they were once whole boulders but were broken off by wind or rainwater. Some of these rocks even bear carvings from those who came before us hundreds of years ago, showing their need for self-expression through this medium they could find at their disposal to show their creativity.
Things To Do in Oak Creek Canyon
There are many things to do in Oak Creek Canyon. Below are a few of the fun things you can do and places you can see when visiting this scenic location:
Hiking
One thing people say about Oak Creek Canyon is that it's the perfect place for hiking because nearly every inch of the canyon has been explored, with hikes ranging from very easy to difficult enough to challenge even experienced hikers. These range from short walks that take less than 2 hours but are considered rigorous due to their steepness, all the way up to long hikes that require overnight stays and multiple days' of food. There are some points along these trails that make people feel like they're standing on top of the world with nothing but sky around them as they look down thousands (sometimes tens of thousands) of feet below.
Red Rock Balloon Adventures
Hot air balloons are a popular way to see the canyon from above. They also provide a chance to escape the heat of the day, thanks to their ability to hover above the ground. These balloons go up before sunup so that they can take in as much of the scenery during sunrise as possible.
There are multiple companies that offer these excursions, and prices can range widely depending on what you're looking for, how long you want to stay up in the air, etc. This is an added bonus if you don't have a car here or are without transportation because it will be transported back and forth between your hotel and where you launch from.
Sedona Arts Center: Photo Workshops
This is the perfect place to practice your photography skills. There are two workshops that will guide you through how to take the perfect shot, and offer tips on what you can do to make sure your photos are of the highest quality. The first workshop is at 10am every day, and there is another offered at 3pm if you're not able to attend the one in the morning.
The second class includes a behind-the-scenes video tour as well as additional hands-on experience with instruction regarding editing techniques for beginners and more experienced photographers alike. All equipment and supplies are provided during both classes, but participants need only bring themselves or a friend for company. Admission for this class is only $95.
In addition to these classes, classes are also offered privately throughout the year for $795. These fully customizable photo tours allow you to bring as many people as you'd like and they include a dedicated guide who is knowledgeable about the area and can direct your attention to key locales, lighting conditions, lens usage etc. All inclusive, there are few better ways to learn more about the art of nature photography in Sedona than by taking one of Gary's courses or guided photo tours. More information on all his programs can be found here.
West Fork Trail
The West Fork Trail in Oak Creek Canyon is about a mile long and starts near the Boynton Pass trailhead. It follows along West Fork creek at bottom of the canyon for nearly 2,000 feet (with plenty of beautiful features to snap photos of through out). The first part of this hike is heavily wooded, which makes it a bit more challenging to shoot than other parts. However, once you reach past the halfway point where the trail ascends upward, it opens up considerably and offers a few great vantage point for shooting due to its open nature and well-placed spots for sun breaks throughout.
Pink Jeep Tours
This is a tour that brings you around in a pink jeep, taking you through the many scenic roads and areas in Oak Creek Canyon. These tours are a great way to enjoy the natural wonders of this canyon without having to physically walk or hike them. The tour guides provides some history about the area you're walking through and they also provide a lot of information about what's going on around you, so it's easy to see how much work these guys put into keeping people informed. You can choose from day tours as well as night tours that include dinner and a campfire along with other activities like dancing by fire light or stargazing with the guides.
Mountain Bike Tours
Another option for touring Oak Creek Canyon is by mountain bike. Some of these tours last an hour while others last all day. The tour guides are very experienced in the area and they make sure everyone is safe while riding bikes on this sometimes difficult terrain. Their knowledge of where to go and what trails are best for bike riders makes all the difference in the experience.
Surrounding Area
The surrounding area has a lot to offer as well depending on your interests, whether you like to be active or enjoy nature's beauty from a different perspective. There's an abundance of hiking, biking and horseback riding trails that will take you through some of Arizona's most beautiful scenery, including grassy meadows filled with wildflowers and tall ponderosa pine trees shaded by towering cliffs rising hundreds of feet into the sky. If camping is more your thing than anything else, then you might want to think about staying close to Oak Creek Canyon, whether it's at a campground or in the comfort of a cabin.
The massive red rocks that make up Oak Creek Canyon are there for you to see and explore. There are no trails within the canyon itself, but if you're anywhere near Sedona, you can enjoy some spectacular views from outside the canyon by simply driving along its rim. The best vantage point is at Slide Rock State Park , located at just over an hour's drive away. This park is open all year round where visitors can hike down into Oak Creek Canyon or enjoy scenic overlooks on hiking trails overlooking the creek below. The main attractions of Slide Rock Park though are mesmerizing water slides that run through rock chutes carved out rushing below creating some spectacular water displays.
It is also possible to hike down the canyon itself, though this should not be done without advanced preparation and a guide or expert who knows the area well. Hiking down into Oak Creek Canyon necessitates crossing from one side of the creek to another in numerous places over slippery rocks. There are however trails within two parks that run along either side of Oak Creek just outside its rim where hikers can enjoy less dangerous activities. These include taking picturesque hikes, biking, bird watching – even horseback riding! The latter requires advance reservations with any of several stables located in nearby Sedona.
Rainbow Trout Farm
If you have any type of interest in learning more about fishing, you won't want to miss the "Rainbow Trout Farm" hidden in Oak Creek Canyon. This facility raises rainbow trout on a commercial scale and offers tours of its operation where anyone can learn all about how fish are raised to stock streams throughout Arizona. It's fun for kids and adults alike.
One weekend each year, during Memorial Day weekend every one is invited to participate in the annual "Trout Stocking Festival". A number of events take place over the three day period including guided fishing trips down Oak Creek as well as contests for largest fish caught, most fish caught and best-dressed fisherman. Live bands will also perform at various venues around Sedona so that families can have a great time spending quality together.
Oak Creek Canyon Camping
You have the choice of public camping grounds or you can select a campground that suits your needs. There are many places where you can enjoy the great outdoors and there will always be something for everyone to do. Sedona has 1,000 acres of wilderness area that includes hiking trails, biking paths as well as fishing areas so that you have everything at your disposal.
You can possibly choose an area where dispersed camping is allowed. When you plan to camp in Oak Creek Canyon near Sedona, Arizona, it is best that you clear out the area first so there will be no roots or rocks that may hurt your camper. You should also remove any trash and place them properly where they belong. Set up the tent right away so that you can enjoy yourself fully without having to worry about your belongings getting stolen by other people who are around. If there is a fire ban, then make sure that you comply with such rules; if not, then start your own fire while following safety regulations.
Make sure that when you camp in Oak Creek Canyon near Sedona, Arizona, safety comes first as well as being ready for unexpected occurrences like overflowing streams or even insect attacks. Insect have been known to get pesky close to dawn , so if you are an overnight camper, make sure that you have the right insect repellent and a flashlight to help prevent getting bitten by blood-thirsty insects.
Camping is also a great way for people to get outdoors and climb the canyon walls. There are many spots where people can do rock climbing and rappelling without requiring much gear, but always remember to be safe first in case accidents happen often. If you want to bring your pets with you on your trip, then it' s best if they have their own leashes attached for easy management; this will ensure that they will not run away or cause disturbances around nature's beauty.
Oak Creek Canyon Cabins
Cabins are available near the canyon for people to stay in. They are nice, cozy and accessible to nature's wonders. The rates don't vary much depending on location but it still offers a great way for people who love spending time outdoors with comfort and convenience of being indoors. This means that you can eat inside, play games or sleep without worrying about getting dirty from both insect bites and mud mixing together into one big mess; therefore allowing you to preserve your new hiking clothes or shoes.
The cabins also have restrooms available so forget about going around looking for toilets outside because your privacy is respected here. Also, if you do not feel like cooking then no need to worry because there are restaurants nearby where you can order food.
Prices for these cabins are on average roughly $115 per night and no utility fees are required. This is the cheapest accommodation for hikers who want to stay in a good place without having to worry about running out of cash.
Subscribe
Stay updated with our newsletter
Conclusion
Oak Creek Canyon is a spectacular 16-mile gorge in Sedona, Arizona. At 8500 feet on average elevation and with an arid desert climate, the Canyon's red rock beauty will take your breath away. If you visit this area of Arizona, be sure to explore the many hiking trails that lead through cascading waterfalls or deep into lush forests; they offer some of the best views around! While it may not seem like much at first glance, do yourself a favor and spend time exploring all there is to see here, you won't regret it.