Winnebago Rialta 22QD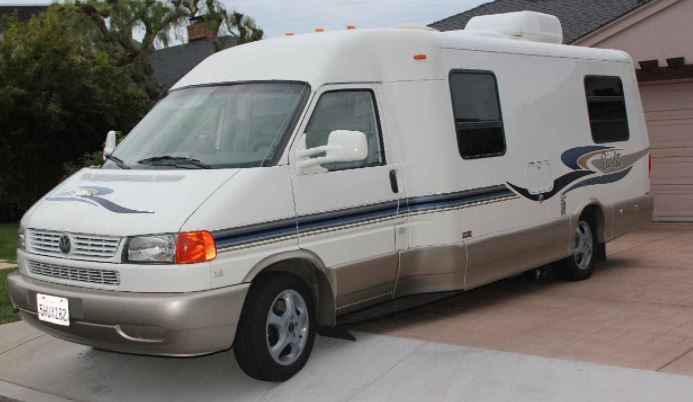 This is a class b motorhome that offers many different floorplans. The Rialta was built by Winnebago Industries in Forest City, Iowa. Over the years of production, it went through many changes and facelifts with differing interior layouts.
The Rialta is very easy to drive compared to some other class b's due to its tight turning radius and overall dimensions. This vehicle's great gas mileage, averaging 18-22 mpg, makes it a great choice for those who are looking to save money on the road. Although this unit is small compared to other class b motorhomes, it still features all of the essentials that you need for your travel needs.
The Rialta has many different floorplans available. Some come with an island bed in the rear or front of the vehicle, some have over/under bunks, and others even have a dinette-convertible-queen bed. All of these options give you many sleeping possibilities depending on your size family or guest list.
There are 2 types of engines offered in the winnebago rialta. They are the vw 140 hp engine that was found in 1997-2001 models or the vw 301 hp engine found in 2002-2005. Although the gas mileage is ok with either of these engines, you can find newer rvs that have diesel motors which greatly increase your MPG's up to 35% on average.
The winnebago rialta is a great family road trip vehicle because it is very fun and enjoyable for all ages. Kids are naturally attracted to any type of bus or motor home because they are able to climb around on the steps, and jump onto the bed(s).The rear bathroom allows kids to easily wash up when they have been outside playing in the mud or sand.
The winnebago rialta was discontinued in 2005. If you are lucky enough to have one of these rvs, I suggest having the vehicle periodically maintained so it will last for many more years to come.
The Dimensions of the Winnebago Rialta
The dimensions of this great rv are as follows:
20 - 21 feet and 8 inches long
8 feet 10 inches high
7 feet and 4 inches wide
Some features available:
Sleeping capacity of four
Convertible rear bench seats (Converts to a bed)
One driver plus 7-passengers
Fold-down sink & Bathroom
Hideaway dinette-table
Water heater (Propane)
Convertible second-row captain's chairs (Converts to a bed)
Microwave
Two burner stoves
Rooftop air-conditioner
13-gallon black water tank
7-gallon propane tank
9-gallon grey water tank
20-gallon freshwater tank
Precision engineering by Volkswagen
Passenger and driver's seats 180 degrees swivel to face the rear
Storage area under both captain's chair
Tires/Wheels
The tire and wheel setup for this vehicle are very important. To make your drive/ride more comfortable, tire size and wheel size have to be compatible.
Front axle tire size - 195/70R15C
Rear axle's tire size - 215/70R15C
With the sidewall plies made of polyester they are able to withstand a load index of 109 for the rear and 104 up front.
Winnebago Rialta Transmission Specifications
This rv has an automatic transmission system with two transmissions (front wheel drive and four-wheel drive) which each have their own separate oil systems.
Two-wheel drive model - A Volkswagen automatic four-speed manual with a single shift fork.
Four-wheel drive model - A Volkswagen Type III powerglide transmission with dual shift forks and a hydraulic torque converter clutch. The T3 has a hydraulic release bearing on the forward shift fork so if the forks wear out you will need to change it or replace it anyway since they cannot be repaired. It also uses a vacuum diaphragm so if that gets weak, fluid goes down and pressure increases resulting in either lost forward gears or decreased engine braking power depending on which way the diaphragm is leaking. This rv also needs an oil cooler for the transaxle because at high speeds this gearbox can get very hot and fry the fluid.
Conclusion
The Rialta is a great option for those looking to save money on gas and who don't need the space of other class b's. It has many floorplans to meet your needs, but it can be tricky finding one that matches what you want in terms of size and layout. If you're still not sure which model will work best for you or if there are any features we missed, please reach out! We would love an opportunity to answer all your questions about this fantastic RV. When contacting us through email, let us know where you live so we can point out some local dealerships as well as our nationwide partners. Thank you again for reading and happy trails!