How to Dress Your Baby for Hiking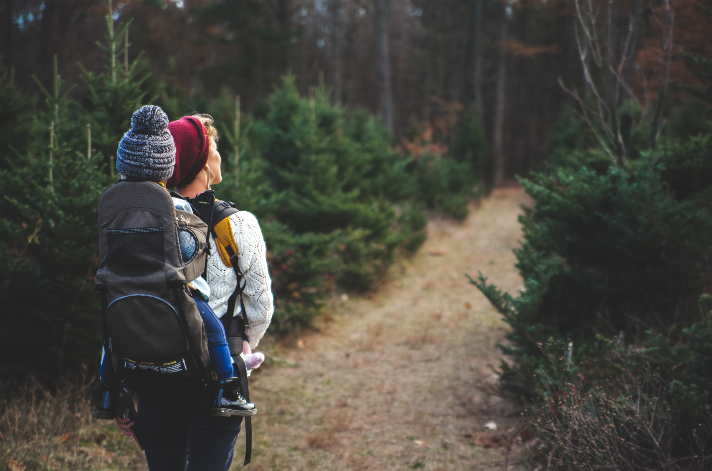 Getting your baby ready for hiking can be daunting. Here we outline what clothing should be worn based on the weather forecast, as well as what to carry in your diaper bag.
It is important to dress your baby in layers. Keep them warm, yet comfortable. Outer layers should consist of baby-sized hiking boots or shoes, waterproof pants and a waterproof jacket. Babies should wear a hat to protect them from the sun and also keep their head warm at night. An extra pair of mittens can be worn on their hands to help keep them warm also.
Below i will go over how to dress your baby depending on the climate and also how to layer them.
Bottom Layer
The bottom layer for baby's should cover their whole body. A fleece pajama is a good idea to start with and baby leggings, or baby-sized fleece pants/tights will be needed if baby is outside for over an hour.
You will also need extra clothes in the baby carrier such as baby socks or a hat depending on how cold it is. If you plan on hiking do bring baby boots to keep their feet protected from.
Middle Layer
The midlayer should be able to insulate your baby from the weather with extras like a hoody which will make the baby feel snuggled in. A baby cardigan, baby-sized down vest or baby-sized fleece will do this nicely.
Top Layer
The top player that your baby will wear should depend on the weather. If your baby is spending an extended period of time outside, they will need a fleece jacket or baby-sized down sweater that can keep him/her warm without overheating. Be sure to bring baby-sized gloves as well to increase their warmth.
This layer will keep babies safe when it gets wet as this layer can dry more quickly than your baby's body temperature. You can add baby underpants for extra comfort or if you don't want baby diapers rubbing on your baby's skin. Underpants are also good in case you need to change baby discreetly (i.e., at a scenic viewpoint). Baby pants tend to get pee/poo everywhere so try to use underrwear as much as possible!
Rain Gear
Babies are more prone to getting sick than adults, this is why rain gear for babies is essential. You'll want baby rain boots, baby rain pants, a baby poncho and baby umbrella to protect your baby from the rain. When hiking in the mountains, it is important to dress for the weather. Weather changes quickly and can get cold even when hiking in summer time.
Protection from the sun
When you have your baby out in nature, you need to protect his/her from the sun. A baby's skin needs to be protected with sunscreen made specifically for babies, baby sunglasses, and a hat.
Tips for when you and your baby are hiking
When you're headed out on a family hike or camping trip with your baby, you need to choose your baby clothes carefully depending on temperature and weather conditions. Here are some tips:
For warmer temperatures (50-75 F) go with light colors that absorb less heat and short sleeves which will allow more airflow over baby skin than long sleeves do.
Even if an activity calls for layers such as fleece pants, there should also be shorts underneath
You should change baby's clothes before leaving if baby wore a diaper during nap time or while eating lunch.
Also bring baby wipes , baby powder, baby lotion, baby nail clippers and baby safe sunscreen.
Bring everything that you would normally use when diapering your baby including: diapers (cloth and disposable ), cloth wipes, non-toxic hand sanitizer (if baby touches things in public), breast pads , etc.
Check the weeather before you leave, and while you are at the location.
Since you will be more than likely be bringing your baby on your back or in your hand, try to pack lightly.
What about older babies?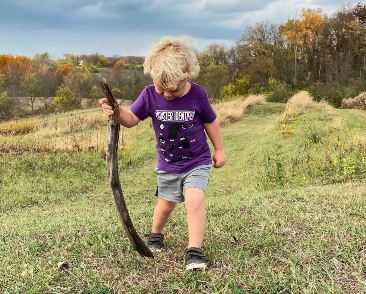 Older babies will want to walk and use their hands more. Knowing this, boots and gloves will be your baby's best friend. They will want to experience walking in the woods by themselves, they will want to touch the plants they walk pass. Boots and gloves will protect your baby's feet and hands from sharp rocks or plants. The baby's socks should be made of wool so that they can breath, but will also keep them warm in the cold weather. Boots should be waterproof for babies to walk through puddles and protect their feet from water and mud.
Conclusion
You learned about all the best type of clothing your baby should wear while hiking. Clothing that will protect them from the sun, shield their eyes from mosquitoes and still allow the to see all of nature's beauty. The baby's clothing should also be light weight and easy to carry. Also, something your baby can move freely in without restricting movement or comfortability.
If you are going on a hiking trip with baby, make sure you bring all the items listed in this post.