Lake Winnebago Guide for beginners.
Lake Winnebago is known as Wisconsin's largest island lake and sits on more than 138,000 acres of land. This lake is a part of a system of other lakes that comprises of Lake Winneconne, Lake Butte, and Lake Poygan. This system also comprises of the two rivers known as the Wolf and Fox Rivers. One thing you have to remember is that Lake Winnebago is large but very shallow. You have to make sure whichever boat you decide to bring on this lake can clear 15 feet. I would us 15 feet as a safe depth even though the lake's deepest depth is 21 feet.
Below you will find information on everything that has to do with Lake Winnebago. This guide will help beginners and also some season vacationers.
Where is Lake Winnebago?
One way to get here would be to take a flight from wherever you're located into Green Bay WI (GRB Austin Straubel International). This airport is however 21.1 miles away. The best way to get here would be to take a flight from your location to Appleton, WI (ATW Appleton International). This is the closest airport and is only 5.1 miles away from the city center.

Fly into Appleton, WI (ATW-Appleton Intl.), the closest airport, located 5.1 mi (8.3 km) from the city center. If you're unable to find a flight that fits your schedule, you could also fly into Green Bay, WI (GRB-Austin Straubel Intl.), which is 21.1 mi (33.9 km) away.
Activities in Appleton Lake Winnebago
Before you head to Lake Winnebago, you might want to enjoy the many activities that Appleton has to offer. There are activities available for both kids and adults. Some of these activities include:
Chaska Golf Course (6.1 miles away)
Reid Municipal Golf Course (1.2 miles away)
Barlow Planetarium (2.3 miles away)
Building for Kids Children's Museum (0.1 miles away)
Hickory Hills Country Club (17.6 miles away)
Pollock Community Water Park (18.3 miles)
These are only some of the activities in Appleton Lake. If you go a little bit further away, there are some others that are just as fun to visit.
Most popular destinations to visit in Lake Winnebago
Below are the top most rated destinations in Lake Winnebago.
Appleton: 123 vacation rentals
Oshkosh: 275 vacation rentals
Green Bay: 141 vacation rentals
Fond du Lac: 67 vacation rentals
Elkhart Lake: 143 vacation rentals
Main cities in Lake Winnebago.
Fond du Lac: 67 rentals
Green Bay: 141 rentals
Elkhart Lake: 143 rentals
Oshkosh: 275 rentals
Appleton: 123 rentals
Appleton lake winnebago attractions
Whenever you decide to visit Lake Winnebago, you will have many options when it comes to different attractions. These attractions will keep you and your family busy and having fun for days. Here are a few of the attractions you can visit:
Cave Point Kayak Tour

Departure point: 6300 WI-57, Sturgeon Bay, WI 54235, USA

End Point: Same

This is where you will be taken on a tour of Cave Point and the Whitefish Dunes. Be prepared to see some of the most beautiful landscapes. When you arrive at the boat launch, you will be provided with a paddle, kayak, life jacket, and safety information. You will receive this then spend the next 2-3 hours paddling on the water.

The starting price for this tour is $60 and has a cancellation policy where you can cancel 24 hours before the tour.

Door County Sunset Tour

Departure point: South Shore Pier Boat Rentals

End Point: Same

This tour is the only tour company that launches out of Ephraim which ultimately gives unique access to the location. Much like the Cave Point Kayak Tour, you will see very beautiful landscapes you will not see anywhere and you will surely remember for years to come. The starting price for going on this tour is $60 and will be money well spent.

Death's Door Bluff Kayak Tour

Departure point: 1310 Garrett Bay Rd, Ellison Bay, WI 54210, USA

End Point: Same

Death's Door Bluff Kayak Tour location is dependent on the current weather and the ability of the group. The guide is responsible for deciding on where to take the tour as wind speed and weather conditions can make the tour dangerous in certain areas. There is however the option of choosing a specific location for your tour by signing up for a private tour online or by contacting the company by phone at (920)-868-1400.

This tour is safe for kids of ages 5+ and even beginner paddlers. Bring the whole family and enjoy a fun morning or evening on the water with your kayak and paddles.

The cancellation policy here states that you can reschedule your tour within 3- 5 days of your tour date, join another tour on that date once conditions are safe or you can cancel and lose your deposit of $10 per person.

How deep is Lake Winnebago?

The Lake Winnebago has a maximum depth of around 21 feet.

How many acres is Lake Winnebago?

This getaway sits on a very large area of land and water. Lake Winnebago sits on 138,000 acres.

Lake Winnebago Fishing

Lake Winnebago has walleye fishing which is widely known to have some of the best fishing experiences in the county. You will find anglers coming from all over the world here to try and catch the popular fish in the area which is the jumbo perch. A perch is a fish that many people get to catch and their favorite are the ones that get over 10 inches. Some of these Jumbo Perch get up to 15 inches and will make any angler happy. Other types of fish that Lake Winnebago is getting noticed for by anglers are bass. More specifically largemouth and smallmouth.

Here is a table of the fish available in the lake and their abundance:

| Type of fish | Abundance |
| --- | --- |
| Musky | Mild |
| Walley | Abundant |
| Smallmouth Bass | Common |
| Catfish | Abundant |
| Panfish | Abundant |
| Sturgeon | Abundant |
| Largemouth Bass | Common |
| Northern Pike | Common |

Fishing Regulations

This is when you can legally fish for these types of fish in lake winnebago.

| Species | When can you fish for them |
| --- | --- |
| Channel catfish | Open All Year |
| Catfish | Open All Year |
| Panfish (bluegill, pumpkinseed, sunfish, crappie and yellow perch) | Open All Year |
| Northern pike | May 1, 2021 to March 6, 2022 |
| Largemouth bass and smallmouth bass | Open All Year |
| Trout | See specific regulations |
| Muskellunge and hybrids | May 1, 2021 to December 31, 2021 |
| Flathead catfish | May 1, 2021 to September 30, 2021 |
| Bullheads | Open All Year |
| Rock, yellow, and white bass | Open All Year |
| Walleye, sauger, and hybrids | Open All Year |
| Cisco and whitefish | Open All Year |
| Sauger and hybrids | Open All Year |
| White perch | Open All Year |
| Rough fish | Open All Year |
| Paddlefish | Closed |
| Lake sturgeon | Closed |
| Round goby | Open All Year |
| Shovelnose sturgeon | Closed |
| Ruffe | Open All Year |

Lake Winnebago Rentals

There are three different types of rentals to stay at in Lake Winnebago. The first one we will go over are hotels. The other two are homes and unique stays.

Hotels near Lake Winnebago WI

There are many hotels located around Lake Winnebago. Below will be a list of the best and closest.
Fairfield Inn & Suites by Marriott Oshkosh

The Fairfield Inn & Suites by Marriott Oshkosh is only 1.57 miles east of Lake Winnebago. Complimentary breakfast is offered along with a Gym and fitness center. Check in is at 3 pm and whenever you check in, there is an outdoor pool to enjoy. This hotel is rated 4 stars on How do rv toilets work?

A total of 54 people can be here at a time spread across the 3 floors in the hotel.

Hawthorn Suites by Wyndham Oshkosh

Location: 3105 South Washburn St., Oshkosh, WI 54904 United States

The Hawthorn Suites by Wyndham Oshkosh is located only 10 minutes away from Lake Winnebago and offers guests many different amenities. You will wake up to many different breakfast choices

Amenities & Features
Alarm clock
Air conditioning
Complimentary breakfast
Baggage storage facilities
Clothes drying
Free WiFi Internet
Internet - ethernet
Complimentary newspaper
Conference facilities
Shower
Credit card accepted: Mastercard/Visa
Credit card accepted: American Express
Facilities for the disabled
Credit card accepted: Discover
Credit card accepted: Diners Club
Bus parking
Elevator
Express Check-Out
Electronic key card
Fitness and health center
Free local calls
Fax available
Swimming pool - indoor
Hairdryer available
Handicap accessible
Games room
Ice Maker
Jacuzzi
Kitchenette in room
Laundry facilities
Laundry valet service
Licensed bar
Microwave in room
Non-smoking rooms
24 hours opened
Office or business center
Pets allowed
Ironing facilities
Private bathroom in room
Refrigerator
Radio in room
Quiet location
Safe in rooms
Self controlled heating/cooling system
Tea and coffee making facilities
Telephone
Voicemail
TV - Free Cable
Telephone - Free local calls
Telephone in all rooms
Television
TV Channel: HBO
Popular vacation rentals on lake winnebago wi
Some people will prefer to stay in a tradition style home rather than in a hotel. @ of the most popular home rentals are listed below.
Lake Life
Location: Neenah, Wisconsin, United States


The owner of this house is a super host and this house is rated 4.94 stars out of 5 on AirBnB. He has gotten that many stars from over 200 guests. The cost of staying here is 300/night and is great for up to 6 people.
Jackson Street Farmhouse
Location: Oshkosh, Wisconsin, United States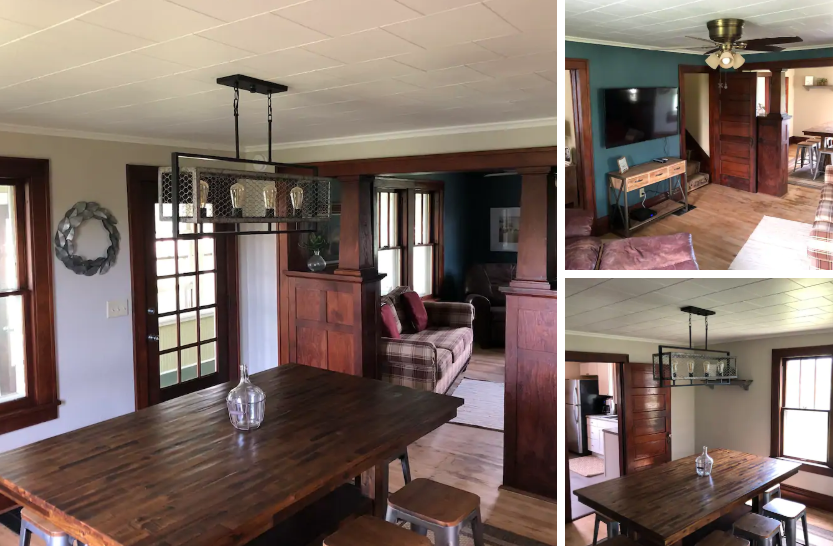 This is a large farmhouse that can sleep up to 8 people.
Lake Winnebago, Wisconsin Boating and Visitors Guide
The biggest inland lake in Wisconsin, Lake Winnebago, have activities and rentals for visitors and residents alike. It's a fantastic location for pontoon rentals with tour buddies, fishing expeditions, kayaking, canoeing, or taking pleasure in enjoyable water-sports on some very high-speed powerboats. Ski across the beautiful lake any type of jet ski, or you can paddle yourself without a stand-up paddleboard, delighting in the stunning nature of Wisconsin on the beautiful water.
The very best season to go to Lake Winnebago is absolutely in the summertime. You'll take pleasure in the warm sunshine and limitless ways to take pleasure in the outdoors. You can easily swim in the lake, so do not think twice to cool down with a dive from your boat on jet ski on Lake Winnebago. It's a budget friendly location for a summertime trips and is the best area for outdoorsy households or groups of buddies aiming to take pleasure in nature without being very far from civilization.
Can you boat from Lake Winnebago to Lake Michigan?
You can definitely boat from Lake Winnebago to the other Lake Michigan through the system known as the lock system on both lakes, these lock systems link them in Green Bay. It's possible to drive your rental boat from Lake Winnebago to Lake Michigan on the lower river known as the Fox River.
Where can you catch walleye on Lake winnebago
The very best walleye fishing you will ever have on Lake Winnebago in the summer and spring season is normally discovered along the rockiest shoreline. You will find them in the shallow corners of the lake. During the summertime, from July onward, you will want to access a fish boat or rent a boat to get much deeper into the lake basin to capture walleye.
Things to do in summer On Lake Winnebago
Jet Skiing or boating

If you love jet skis or boats, then this is the best thing for you to do on Lake Winnebago.

Go Fishing with your buddies & Family members

There are various tackle and bait shops around Lake Winnebago to just stop at &and get anything you might need. Clearly, for fishing, it is always best to have a fishing pole, bait, tackle, and a net. Stop at a shop to stock up on supplies if you do not have any or just simply needs some more.

Kayaking

Kayaking is getting very popular among visitors here. Get your kayak ready for a fun time on the water.
Things to do in winter On Lake Winnebago
Ice Skating
Ice Fishing
Drive your vehicle across the lake

Please check ice thickness before you do this. During the cold winter months, the ice gets thick enough and strong enough where people drive their vehicles straight across the lake.

Ice-Boating

This might be a new concept to most people reading this, but, during the cold winter months, the ice gets so smooth and thick that ice-boating becomes possible.
Nearby Attractions and buildings (Less than 20 miles away)
| Attraction/Building | Miles away |
| --- | --- |
| Wittman Regional Airport (OSH) | 1.3 |
| Whittman Regional Airport | 1.8 |
| Oshkosh Convention and Visitors | 1.9 |
| University of Wisconsin Oshkosh | 3.4 |
| Oshkosh Public Museum | 3.8 |
| Paine Art Center and Gardens | 3.9 |
| Wisconsin Aviation Museum | 14.8 |
| Fond Du Lac County (FLD) | 15.3 |
| Moraine Park Technical College | 15.8 |
| St Agnes Hospital | 16.0 |
| Appleton International Airport (ATW) | 19.4 |
Conclusion
Lake Winnebago is one of the best places I have ever visited and it is well suited for the whole family. There are many activities around for every member of the family and the staff at each of these places are very welcoming. My next visit to Lake Winnebago will be in the summer as the last time I visited it was at the end of winter when the weather was not the best. With the weather not being the best, I was still able to enjoy the area to the fullest.