Subscribe
Stay updated with our newsletter
Hooking up a generator to a travel trailer will usually require a Transfer Switch?
A transfer switch needs to be installed between your power source and your power box in the RV or travel trailer. This allows you to turn off the power from the grid and turn on the power from your generator.
Transfer Switch
When you go camping, there are certain conveniences that you should have. One of those is the ability to use your electrical appliances.
What Is A Transfer Switch?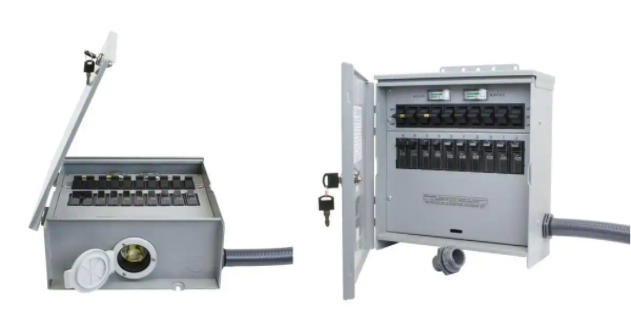 A TS is an electric switch that transfers an electrical power source from its primary source to a standby source. It's the only way of connecting an external generator to your RV, and it ensures that the power generated by the generator doesn't back flow into the utility lines. Other types of transfer switches are automatic, manual and double throw switches.
Automatic transfer switches can monitor the power being produced by the utility lines. When it senses a power outage, it will automatically switch over to another power source such as a generator. This type has five main components: control circuit, sensing circuit, transfer switch, time delay relay and engine starter.
Manual transfer switches on the other hand require you operate them when switching from one power source to another. They are often used for small generators because they are less expensive than automatic transfer switches. They are also easier to install than automatic ones, which makes them ideal for small generators that don't need automatic operation.
There are different types of transfer switches
You will have the option of choosing between different types of transfer switches.
Manual Transfer Switch

A manual transfer switch offers the most affordable option for connecting your generator to your trailer. This type of transfer switch is operated manually. It usually comes with a 30-amp outlet that plugs into the generator receptacle. The outlet can be connected to an extension cord that runs outside and plugs into your trailer's power supply. This may not work if your breaker box needs 30 amps or more.

Manual transfer switches are inexpensive and portable. They are often used in small capacities because they are easy to set up and low energy.

To hook up a generator to a travel trailer, you'll need a transfer switch alongside the generator. The transfer switch will connect with your home's power box so you can use the same power source for your appliances in your travel trailer.

Make sure your generator is turned off before connecting it to the power box with the manual transfer switch. Once you have connected it, simply turn on the generator and then the manual transfer switch to supply power to your travel trailer from your generator.

Pre-Wired Transfer Switch

A pre-wired transfer switch is a small unit that connects to the electrical panel of an RV. It allows the user to hook up the generator directly without having to run multiple extension cords inside the RV and connect each device individually. This means less work and fewer worries about tripping circuit breakers or shorting out devices.

The transfer switch works by connecting two wires from the fuse box of the house and two wires from the RV electrical panel (or battery) through a switch. The switch then switches between these two inputs automatically when power goes out. A pre-wired transfer switch can be purchased online for about $100 (plus shipping).

The main advantage of this option is that it requires no special tools or expertise on your part. Just follow the instructions provided with the transfer switch and you should be good to go.

Automatic Transfer Switch

Automatic Transfer Switch (ATS) is a device that can automatically transfer the power supply from the main to the generator when there is a power outage.

The ATS is connected to the electricity meter and in normal conditions, it allows the electricity to pass through the electricity meter, while it automatically disconnects the electricity meter when there is a power failure and connects it to the generator.

The ATS has two breakers: one breaker designed for connecting to a power source (electrical grid or generator) and another breaker for connecting to an electrical load (for example, a home). These two breakers are interconnected, so that when one of them is open and one of them is closed, no current will flow through the breakers (the breakers are switched off). When both of these breakers are closed, current flows through both of them.

In automatic mode, the ATS closes its main breaker when it senses that there is a voltage coming from an external source. It also closes its generator breaker if it senses that voltage from its internal generator supply has dropped below a certain threshold. In this case, current flows through both breakers (electricity passes through the electrical grid).
Conclusion
When it comes to RVing, there are few things more reassuring and convenient than knowing you can generate your own electricity. An RV generator can power the essentials while boondocking or let you run all of your favorite gadgets and appliances while plugged into a campground electrical hookup.
A travel trailer is a towable RV that makes up a large portion of the market. While some people think of it as a lower-class RV, there is nothing wrong with them, aside from their lack of mobility when unhooked from a truck or SUV.
When it comes to travel trailer generators, there are dozens of options out there - so many that it can be overwhelming! This article guided you through the process of picking the best generator for your travel trailer.