Where to camp at the Zion National Park.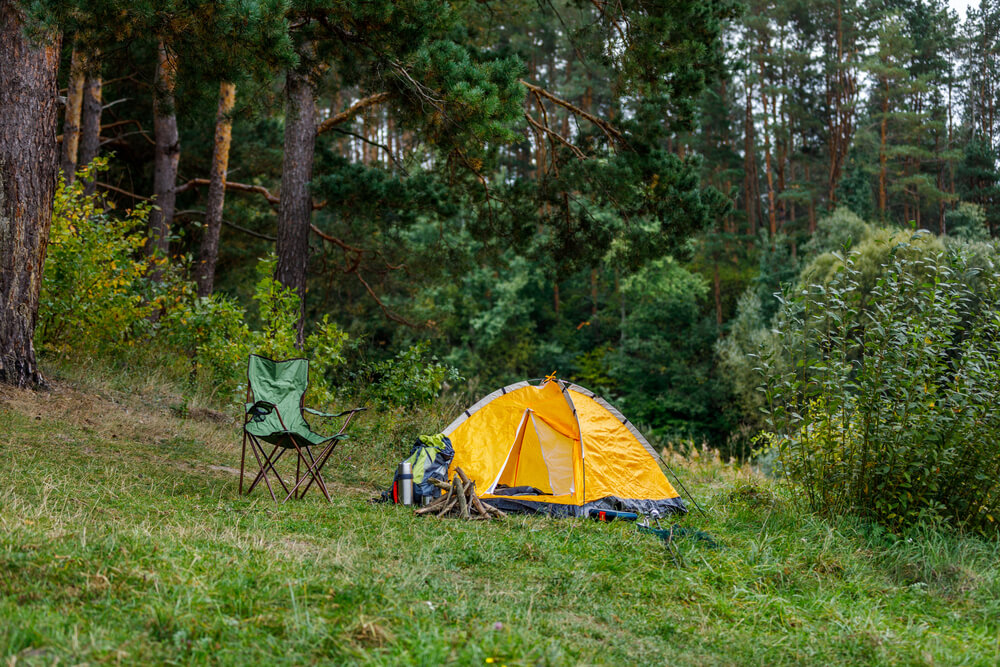 The Zion National Park is the first National park in Utah. This is where pioneers and ancient native people walked. You can view massive sandstone cliffs with different colors such as red, cream, and pink. These cliffs soar into a wonderful blue sky that is perfect for a proposal. Come to see a wide variety of animals and plants that will enchant you. There are many adventures to keep you happy here and will forever be stapled in your memory.
Twin Hollows Canyon

Location: US Hwy 89 Mount Carmel, UT 84755

One thing we all need to think about when we go camping is whether or not we will have a cellular connection on the campground we choose. You need to know this in case there is any type of emergency. The Twin Hollows Canyon is a great campground to visit as it has above average cell coverage with Verizon, AT&T, and T-Mobile.

The Twin Hollows Canyon has a total of 5 sites and offers accommodations for up to 14 days. Be prepared to get your boots a bit dirty as the pad type here is all dirt and has an elevation of 5,118 ft / 1559 m. The twin hollows canyon can get very busy during the day time so be prepared for delays that may interrupt your traverse.

Twin Hollows Canyon Campground Features

The twin hollows is not a luxury campground so be prepared to bring your own supplies.
Fires allowed
Pets allowed
Alcohol allowed
Phone service
The Twin Hollows Canyon has sites with plenty of space for tents, campers, and motorhomes. There are no amenities, so be prepared to use only what you have packed in your vehicle.
Twin Hollows Campground Utah
Location: Mt Carmel, UT 84755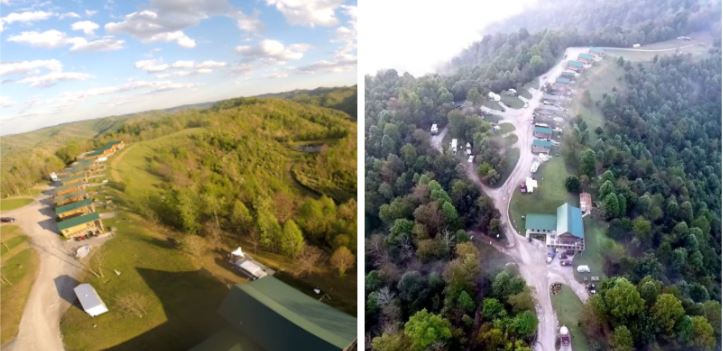 The Twin Hollows Campground is only a short drive from the Zion National Park and definitely deserves a mention on this list. This campground is a bit lower than the highway so you will be able to enjoy a but of quiet. This location is known to be a primitive location (no water or toilets) so be prepared to provide yourself with everything you need to get through the day or days you plan on staying here. There are a total of 5 spots for camping which 3 of those spots are large enough to use two campers.
Something to note about the Twin Hollows Campground in Utah is that it is free and all campsites here are on BLM land which is why there are no restrooms or water.
You can enjoy dry and dispersed camping at this location or hike on the trail. Bring your furry friends too as they are more than welcome. The cellular service her is not horrible either as on the AT&T network, visitors report at least 3out of 5 bars of reception.
If at any time you need to dump, there is a Chevron in Mount Carmel that offers free dumping with the purchase of fuel.
The Twin Hollows Campground in Utah is a great place to experience free camping. Just be prepared to provide yourself with the necessities that will keep you happy while you stay here.
Cell Phone Coverage at the Twin Hollows Campground Utah
2bars
Verizon 4G/LTE
Confirmed by 6 Users
Last reported 5/13/2020
4bars
AT&T 4G/LTE
Confirmed by 10 Users
Last reported 7/1/2019
4bars
T-Mobile Voice Only
Confirmed by 1 User
Last reported 4/12/2019
Watchman campground
Location: UT-9, Springdale, UT 84767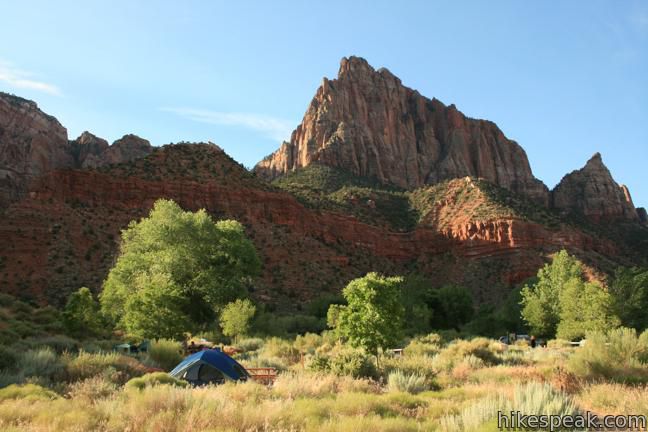 Whenever you visit the Zion National Park, it's always a good idea to visit The Watchman Campground as it is located near the park's south entrance. It is just a very short walk away from the Zion Canyon Shuttle System, the main visitor center, and close to the town of Springdale. You can mainly access most of the park's trail and the canyon by using the shuttle bus service from around March to November of each year. This campground is available all year round and you have the option of making reservations of up to 6 months before your stay. These 6 moths reservations have to be within March through to the Thanksgiving weekend in November. There is also a first come first serve basis from the latter part of November to February.
The Watchman campground got its name from the rocky peak that rises above it and visitors can access the three trails from the facility. There are three trails that you can access and the first one is the watchman trail. This trail goes up the peak that is behind the campground; the Pa'rus Trail which is a biking and walking trail that is paved and runs along the side of the river; the Archeology Trail which offers visitors the ability to hike to an archeological site.
Amenities:
Archeological Sites
Flush Toilets
Paved Pathways
Drinking Water
Dump Station
Accessible Walkways
Accessible Campsites
Paved Roads
Pets Allowed
Recycling
BBQ
Amphitheater
Fire Rings
Entrance Station
Electricity Hookup
Trash Collection
Grills/Fire Ring
Fire Pit
Accessible Occupant Message
Electric Hookups
Utility Sinks
Ranger Station
Picnic Table
River Access
The Lava Point Campground
Location: Zion National Park, Springdale, UT 84767
If you decide to stay at this campground, it might be wise to know that this campground is usually only open from May through to September. The campground is located 25 miles away from a town known as Virgin and is located 7890 feet above sea level. If you take the South Entrance of the Zion Canyon, it will take you 1 hour and 20 minutes to get here.
There is a total of 6 campsites that are available on a first-come-first-serve basis and the camping fee is easily paid at the self-pay station that is located near the entrance of the campground. Please be advised that this campground does not offer water in any form and you should bring enough water to last you 3 more days than the amount of time you plan on staying. Vehicle size could be a problem for some visitors also as any Vehicle that is larger than 19 feet are not permitted on the road to the campsites.
South Campground
Location: Dalton Wash Rd, Virgin, UT 84779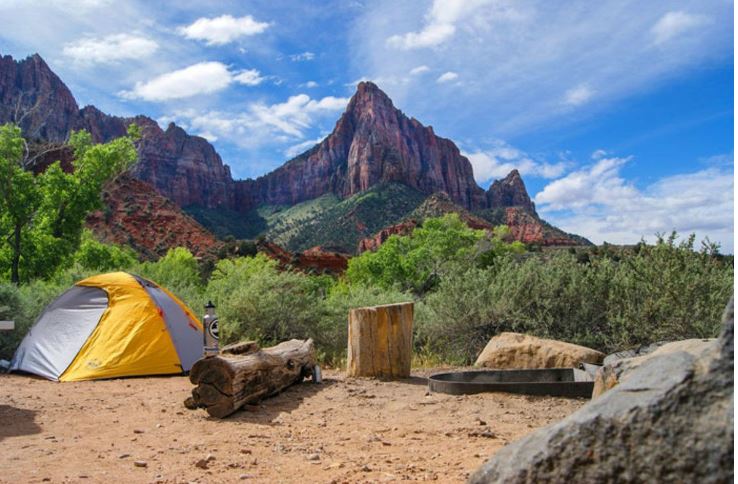 The South Campground is located just a half of a mile away from the South Entrance of the Zion National Park and has a total of 117 campsites. Out of these 117 campsites, there are 3 that are wheelchair accessible. There are three flat sites but none have easy accessibility to any necessary facilities such as trails or restrooms. One good thing about staying at the South Campground is that the Watchman Campground is only 0.3 miles away which you can have access to necessities such as restrooms, drinking water, and many others.
No hookups are available here but there is a dump station with potable water available. If you have to use a generator, you have to use it between the hours of 8:00 a.m. to 10:00 a.m. and from 6:00 p.m. to 8:00 p.m. The admission per night is $20 for each campsite and $50 for group sites. If you have an Interagency Senior/Golden Age or Interagency Access/Access Pass then that means you will get a 50% discount on any individual campsite. Some campsites have shaded trees and can only accommodate vehicles with a max height of 12 feet 6 inches.
Zion Family Ranch Campground
Location: Smith Mesa, Virgin, UT 84779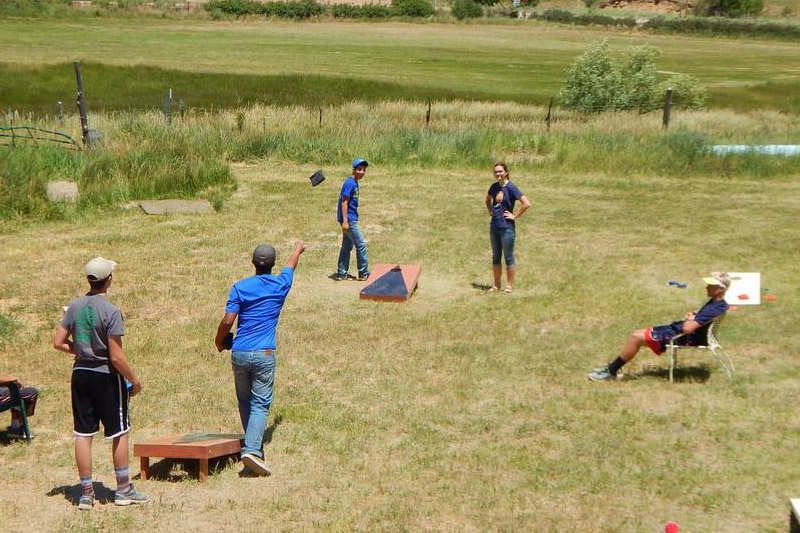 It cost $55 per night to stay at the Zion Family Ranch Campground. This campsite is a tent campsite, so no motorhomes, trailers or RV's are allowed at this time. It is equipped with 2 shower rooms and flushable toilets. If you're the type of person who likes to fish, then you would have access to the ponds and you can also use a boat or kayak. There are a total of six campsites and these campsites can hold up to 8 people each. One good thing about this campground is that you also have the option of renting out the whole campground for special occasions. These types of occasions have to be set up in advance.
Amenities:
Bins available
Picnic table available
Showers available
Wi-Fi available
Kitchen available
Potable water available
Hiking guide for places at or near the Zion National Park
Below there will be guides labeling each trail as easy, moderate or difficult. Use them to decide on which trail you want to tackle.
| | | | | |
| --- | --- | --- | --- | --- |
| Pa'rus Trail | Visitor Center to Canyon Junction | 2 hours 3.5 mi / 5.6 km | 50 ft / 15 m | The Paved trail goes through the Virgin River from the Visitor Center all the way to Canyon Junction. |
| Lower Emerald Pool | Zion Lodge | 1 hours 1.2 mi / 1.9 km | 69 ft / 21 m | This trail Leads to the waterfall that is below Middle Emerald Pools and the Upper Emerald Pools Trail. |
| The Grotto Trail | Zion Lodge The Grotto | 0.5 hour 1 mi / 1.6 km | 35 ft / 11 m | The Grotto trail parallels the roadway and connects the Zion Lodge to The Grotto. |
| | | | | |
| --- | --- | --- | --- | --- |
| Sand Bench Trail | Zion Lodge | 4 hours 7.6 mi / 12.2 km | 466 ft / 142 m | There are minor drop-offs here as you hike above the huge landslide. There is also a commercial horse trail from March to October. There is no shade here. |
| Canyon Overlook | East side of Zion Tunnel | 1 hours 1.0 mi / 1.6 km | 163 ft / 50 m | Just like the Sand Bench Trail, there drop-offs and handrails. Parking is limited here and the trail ends at viewpoint where you can see the lower Zion Canyon. |
| Timber Creek Overlook Trail | Kolob Canyons Road | 0.5 hour 1 mi / 1.6 km | 100 ft/ 30 m | Follows a ridge to views of Timber Creek, Kolob Terrace, and the Pine Valley Mountains. |
| Upper Emerald Pool | Zion Lodge | 1 hour 1 mi / 1.6 km | 200 ft/ 61 m | There are minor drop-offs and is a sandy and rocky trail. It climbs to the Upper Emerald Pool at the base of a cliff. There is also no swimming allowed. |
| Watchman Trail | Zion Canyon Visitor Center | 2 hours 3.3 mi / 5.3 km | 368 ft / 112 m | Includes minor drop-offs. You will end up at a viewpoint of the lower Zion Canyon, Springdale, and Towers of the Virgin. |
| Kayenta Trail | The Grotto | 1.5 hour 2 mi / 3.2 km | 150 ft / 46 m | Includes moderate drop-offs. The Kayenta Trail is a rough, unpaved climb to the Emerald Pools. It connects the Emerald Pools trail to The Grotto. |
| | | | | |
| --- | --- | --- | --- | --- |
| The Narrows | (via Riverside Walk) Temple of Sinawava | Up to 8 hrs 9.4 mi / 15.1km Out and back hike | 334 ft / 102 m | Sometimes present harmful algae. Located in the river and at times subject to a flash flood. Not suitable for young children. Would be wise to check flash flood potential and weather conditions before taking this trail on. |
| Scout Lookout on the West Rim Trail | The Grotto | 3 hours 4.4 mi / 7.1 km | 1000 ft/ 304 m | Has a long drop-off and is not suitable for young children. It is also not meant for people who are scared of heights. |
| Kolob Arch via La Verkin Creek Trail | Kolob Canyons Road | 8 hours 14 mi / 22.5 km | 1037 ft/ 316 m | This trail is limited to 12 people per group. It follows the Lav Verkin Creek and Timber. Take the side trail to Kolob Arch, which is one of the largest arches in the world. |
Weather for the Zion National Park
The weather at the Zion National Park is hot during the summer and cold during the winter and experiences small amounts of rain throughout the year.
SPRINGDALE WEATHER
Conclusion
There are many different places to enjoy at the zion national park. My favorite is the twin hollows campground because it is free and very peaceful at night. Anyone who decides to camp there will have to do extra planning before getting there. Make the zion national park your next getaway, you will not be disappointed.