What Do You Need To Camp?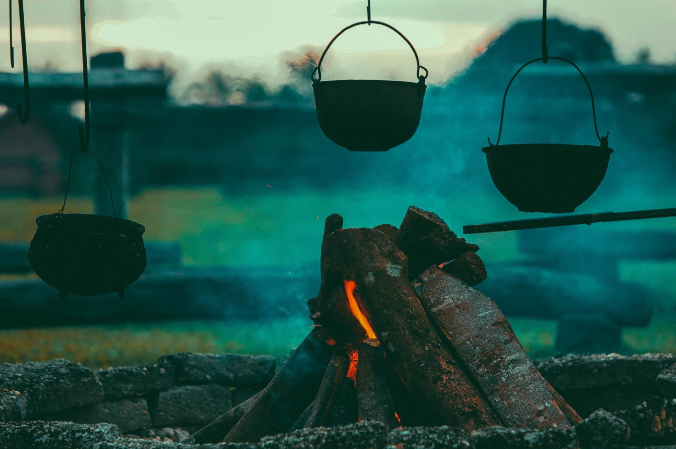 Camping is an affordable way to explore our country's beautiful wild spaces. But spending the night in a tent brings with it certain considerations, like what you're going to wear, how you'll go potty (maybe into a hole), and where you'll put anything you bring that is too heavy or cumbersome for your pack (car). Outside of these basics, camping is all about personal preference.
Below are some of our suggestions, a carefully researched list of "must-haves" like a tent, clothes, cookware, and nice-to-have items such as candles and board games.
For your campsite
You will need certain items to make your campsite comfortable. Items such as a tent, sleeping pads, sleeping bags, camp table, camp chairs, pillows, lights.
Tent

Our first suggestion for making camp is to bring a tent that is large enough to hold all of the people staying overnight and their necessary bedding. For 4 adults, we recommend a cabin-style (2 rooms) 12 x 10 ft. tent with an 8 x 10 ft.

Screened porch area

The porch area helps block bugs and provide privacy from other campsites nearby. The porch is also a great place to store dirty shoes and muddy clothes at the end of a long day.

Pillows

A pillow is an item not to be forgotten when camping with family or friends. It will make your naps or sleep so much more comfortable and enjoyable. A good rule of thumb: the bigger the pillow, the better.

Cots

If you can't bring yourself to sleep on the cold ground, we suggest investing in cots instead of air mattresses. They're generally lighter and easier to move around (and they don't pop). Plus, sleeping with a little elevation helps keep you warmer. Cots allow you to sleep on the ground, but off the cold, hard ground. At least someone in your party should bring one; you can all pile onto it during ghost stories around the campfire.

Camping Chairs

Sitting on a log is great for short periods of time (eating snacks, playing cards), but for longer periods of time (watching the sun set, lounging at your campsite), you'll want to grab some camping chairs.

Camping lantern or light

The night sky is so beautiful when it's lit up by the stars and planets, but once it gets dark it can be hard to hike around in the woods. A camping lantern or flashlight will ensure you don't lose your footing while enjoying the nighttime hours.

Firewood

To keep warm at night bring some firewood along with you because wood makes for a great campfire that helps you stay toasty throughout the chilly evening hours.
For your body
Clothes are, of course, the most important thing you'll need if you're going camping. Be sure to pack accordingly for whatever weather is expected in your area. If you check the weather and it is supposed to be cold, then you should pack extra clothes and layer up your clothing. If it is supposed to be hot, pack light and bring a hat for sun protection. Remember to bring socks, they help protect against blisters, keep your feet warm when it's cold, and cool when it's hot.
Comfortable shoes

You should bring at least one pair of comfortable walking/hiking shoes since most likely you'll be doing more walking than usual. Avoid white tennis shoes if possible because they become dirty quickly. If it rains get a pair with good grip on them or they might slip off while climbing wet rocks. That could be very dangerous.

Lotion

You will need lotion to keep from getting dried out by the sun. Lotion helps the skin stay hydrated and soft. You don't want to use a sunscreen on your face and then dry out the skin with no moisture barrier.

Deodorant

You never want to go anywhere without having deodorant. It's pretty essential for keeping you healthy and happy, so bring it along.

Sunscreen lotion

Sunburns are never fun so bring sunscreen or sun block with you to ensure your skin stays healthy while you enjoy being outdoors. The sunscreen should have a high SPF because it takes longer for burning to occur when there is higher protection from the sun's rays.

Bug repellent spray

If possible use bug repellent spray on areas where ticks, flies, mosquitoes and other bugs rest on your body (behind the knees & underarms) because they might give diseases like Lyme disease or Malaria if they bite you.

Sleeping bag

Do not choose cotton when selecting a bag; it takes forever to dry when wet and retains water (meaning: if it rains and you fall asleep in your bag without setting up the rain fly for shelter, you will wake up in the morning with wet clothes.)

S\Extra Socks

Socks get wet when you go hiking, biking, or even swimming during the summer months. That's not the end of the world since they usually dry pretty quickly after being exposed to air. But what happens if one sock gets wet? You wouldn't want both your feet to get cold now would you? The solution is simple: Take an extra pair and put them in your pack in case this exact situation occurs.
Toiletries: Toothbrush! Toilet paper!
Toothbrush

A toothbrush will ensure you have a clean mouth the day after you have been camping. A toothbrush with a good grip handle will be more convenient to use if there is no running water available for brushing your teeth.

Toothpaste

Bring along toothpaste as it is an important part of good hygiene. The toothpaste should be in a container that can fit into your camping bag without spilling, as this will ensure the inside of the bag stays clean and neat. You don't want to ever have to use water to clean out the inside of your bag.

Soap

Soap is not just for showers. It can be used to wash away dirt and grime, so it will come in handy if you need to clean clothes or yourself while camping. Choose a soap product which is biodegradable so that you help the environment when using it during your trip.

Towels

A micro-fiber towel can be packed into a small space, but still provide you with plenty of dry towels after leaving a swim in the lake. These kinds of towels are lightweight, meaning they will keep your belongings lightly packed when on the go camping.
For cooking and eating
Food is essential for all camping trips, but it can be hard to carry with you on a hike or bike ride so it's best to plan your menu before hand. You may want to invest in some camping cookware that's lightweight enough not to break the bank (or back) yet durable enough to last several seasons. Some campers like to bring disposable cookware since they're easy to clean after use; others love cast iron cookware such as dutch ovens. If you're car camping, bring the kitchen sink.
Cooking Utensils

Bring enough cooking utensils to cook for everyone in your party. Cooking utensils make life a lot easier. Bring a cast iron skillet and a crock pot to enjoy the perfect campground breakfast or dinner! Just make sure you cook during designated hours with a camp stove.

Pots and pans

Larger is better if you plan on cooking for more than one person. Also, it is investing in a pot or two with a non-stick coating so food doesn't stick to the bottom or sides while you are cooking. Don't forget to pack long handled wooden spoons and spatulas!

Plates/Bowls/Mugs

Pack enough plates, bowls, mugs, cups, etc., for everyone who will be eating with you. If you're really into roughing it then just bring disposable plates and forks but that's not our style. Plates and bowls will keep you from having to wash the camp dishes in a river or lake and reusable silverware means that there is less of a chance that you will end up with garbage floating around the place where you are living.

Corkscrew

This item will come in handy whenever you plan on opening a bottle of wine or champagne with friends. Oh and don't forget the corkscrew itself, if you don't have one in your kitchen drawer already. You never want to try opening a bottle without the proper tool and wind up breaking the cork in half and having it get stuck inside.

Strainer

Even if you plan on boiling your water and eating only packaged foods like ramen noodles and rice mix (which is not usually our idea of meal) then you still need this item. You never know what might happen out there so it's always good to have it on hand instead of being stuck with nothing but spoons and forks.

Cutting Board

Again, even if you don't plan on cooking anything elaborate, there are still lots of things that need chopped or cut up before they can be eaten. So really, this is just a must have for everyone who plans on making meals while camping.
Fun Items
Some parks do allow astronomers to set up telescopes but they may have restrictions regarding where you are allowed to set them up or how long before dark you are allowed to looking at the sky so plan accordingly.
Play Pen

A play pen can be used for more than just housing your little one while you cook or go to the bathroom. Use it as a portable table surface while playing cards, using it as a tray for eating meals, or putting multiple ones together to hold large picnics.

Bikes

Bring bikes along if you want to get somewhere faster or if you are planning any outdoor activities.

Hammock

For those who want to beat the heat, a hammock is perfect. The gentle breeze will make for a restful sleep at night and provide campers with a spot to relax during the day. And it's an excellent way to spend quality time with people important to you.

Fishing Rods

Fishing rods add a fun activity to an outdoor trip and allow campers to add variety to their diet with freshly caught fish. This can also allow you to bond with kids and teens and connect with nature.
Safety Items
Band-Aids / mini first aid kit

You don't want to end up on one of those shows where the person gets gangrene due to an untreated injury, so I recommend putting one together and sticking it in your pack. This will ensure you have the essentials, but you can always add to it if need be.

Map and compass

A map and compass will help you navigate through the backcountry. You can never be too prepared when it comes to this stuff. A map or compass does not run on batteries which is a huge plus.

Watch

A good watch with an alarm is the only way to wake up on time for those early morning treks. You can also use it as a timer when cooking over the fire! Plus, you'll need it if you're going geocaching, which I recently learned is a real thing

Duct Tape

Duct tape will always come in handy. It's perfect for emergencies, i.e. a broken branch or torn sleeping bag. But if those don't arise, it can also be used as more general "camping equipment," i.e., zippers that won't close or buttons on your rain jacket that have come loose during the day!

A Swiss Army knife

A swiss army knife has an assortment of different blades which you can use to whittle a stick into a spear or gut a fish. And then there are scissors and tweezers that somehow always come in handy! If I was ever stranded on a desert island, this would be one of the first things i would want with me.

Rope

100 feet of paracord is a must for any camping trip. This rope has so many uses, from hanging a tent to hauling firewood. And it doesn't have to be an expensive brand – you can pick up 100ft of paracord at most hardware stores for under $10.
Something for the kids to do
Frisbee

Fetch is a common game for dogs and humans, and Frisbees make it easy to play together. Kids will get plenty of exercise running around after a flying disc.

Horseshoes

A staple of summer camp frat parties, horseshoes can be easily played without equipment or electricity. Be sure that everyone knows the rules before you start playing because there are different sets of horseshoe etiquette depending on which kind of event you're having (casual backyard party vs formal tournament). It takes some practice to get good at throwing horseshoes so prepare for lots of laughs when people miss their target or accidentally hit someone else.

Lawn Games

Lawn games like bocce ball and corn hole bring the fun outdoors and provide opportunities for friends and family members of all ages to get in on the action.

Board Games

Board games will provide hours of entertainment. If you don't have enough games for everyone, you can also bring card games like poker or go fish to play around the campfire at night.

Bocce Ball

This is a great lawn game that can be played with people of all ages. It's similar to horseshoes in that you're aiming for a target, but it's even easier because all you need is a bocce ball and one smaller target ball (called the jack). You can buy sets on Amazon or borrow them from your grandparents who probably still have their set from when they were kids.

Cornhole

Cornhole is another popular lawn game, but it usually involves two players knocking over the other player's three bags before they can knock over their own three bags. It's best with four to eight players, so you'll want to bring friends if you play this game. You can find somewhere to buy cornhole boards or just make your own out of plywood and 2x4s.
Conclusion
The articles give specific reasons why each item should be brought along when camping out in the wilderness for an extended time period. Try not to overdo it with your first editing attempt by adding too much unnecessary information. Keep your focus on what items were listed as important above all others. You may assume these are common sense items for every camp ground scenario, however, it's always easy to forget something small.
We decided it best to provide this list of must-haves to make your first camping experience as successful as possible! So if you are wondering what you need for a camping trip, then look no further. You will want to bring all of the items on this list with you next time that you go out into nature for an extended stay away from home.