Everything you need to know about camping yurts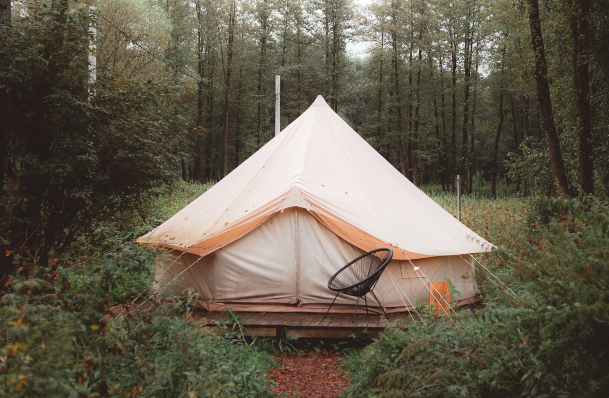 A camping yurt is a modern variation of the yurts used by Asian nomadic groups. In general, a camping yurt is much larger, and much easier to transport than an original yurt because it does not have a felt covering or wood frame. Most modern versions are simply foldable fabric encasements around a metal frame.
Camping yurts offer campers the luxury of a comfortable shelter without requiring them to carry a heavy load. It is perfect for families and larger groups that plan to spend an extended amount of time camping in one location.
How To Use A Camping Yurt
A camping yurt is usually square or circular, and it is designed with a collapsible metal frame and a tough material like canvas or nylon stretched over the frame. The covering material or top of a camping yurt protects campers from rain, sunlight and other outdoor elements.
Camping yurts are relatively easy to set up and take down. Depending on the size of your particular unit, you may need one or two people to set it up correctly; however, some resellers offer models that can be assembled by one person with a bit of effort. The basic design includes a floor plan large enough to accommodate several sleeping bags and a table for games, meals and other activities.
What Are The Advantages Of Using A Camping Yurt?
Campers love using camping yurts for several reasons. Below will be a list of all the reasons you should consider owning one.
They are quick and easy to set up
Weatherproof
Bug-resistant
Because of their round shape, they offer more unobstructed floor space compared to other types of camper tents
Spacious inside
Many users also report enjoying how quiet it gets inside these outdoor structures as well as their ample headspace.
Provide a comfortable home base from which to explore your surroundings during a trip into the great outdoors.
What Are The Disadvantages Of Using A Camping Yurt?
While there are many advantages of using a camping yurt, there are also some disadvantages that campers must know about before making their final purchase. These include:
Yurts can be very heavy and difficult to maneuver by hand. Some camping yurts weigh as much as 500 pounds and might require a truck and ramps to move around.
The circular shape makes them easy targets for strong winds, so they need to be anchored down in windy conditions.
They are not as insulated as traditional camper tents, making them less ideal if you plan on camping during colder seasons.
How Big Are Camping Yurts?
Camping yurts come in many different sizes. There are models that can fit as few as four or five people. These are usually the models that are commonly used for food preparation and also small group meetings. There is also a model called the'house yurt' which fits up to ten people and has a door and windows built in.
Most popular campsite yurts, however, sleep up to six adults comfortably, with plenty of room for sleeping bags, camping mats and other personal items such as backpacks and clothing.
Where Can I Find Camping Yurts To Use?
Campers can find camping yurts at some retail stores, as well as on some popular online shopping sites. Many are available to rent for short-term periods of time for those who want to put them up and take them down frequently on an ongoing basis.
If you do not own one of these structures yourself, you can rent one from many outdoor recreational companies. When renting a camping yurt, there is often an option to have it set up for you by an expert team prior to your arrival at your camp site so that you can just simply unpack your supplies and enjoy your time in the great outdoors.
If, however, you are interested in making one of these structures yourself, there are many well-illustrated DIY do it yourself websites available. The materials for building a yurt vary greatly depending on the size chosen, but much like any other type of camping tent home, they will consist mainly of wood.
While some people make their own camp yurts with wooden pegs to hold the structure together (much like an older model round tent), most modern versions use metal joints that connect together to allow for easy assembly and dismantling when required.
Metal joints also provide greater stability during storms or high winds as compared to wooden pegs which can be easily blown away or destroyed
How To Put Up A Camping Yurt?
If you are interested in putting one of these structures on your next trip, you won't have any trouble setting it up if you follow these basic steps:
Spread out the floor plan
Place stakes into the ground along each edge
Thread poles through loops around the edges
Attach crossbars over top of structure Secure with guy lines along each side.
By following these steps, your yurt should be steady and sturdy for all of your camping needs.
Types of yurts
There are three primary tent styles available when it comes to camping yurts: family-sized yurt, yurt festival tent, and the Mongolian style. All three styles look pretty much the same on the exterior but different types of roofing materials are used inside that provide more durability and strength depending on where you purchase your camping yurt.
Below we will go over these three types of yurts
Family-sized Yurt: This type of yurt is traditional and is perfect for family camping. It comes in at 15.8' in diameter and can hold up to eight people, but it's still large enough that you'll have plenty of room to move around and not feel cramped.
Yurt Festival Tent: This type of yurt is great for festivals because the larger size provides a lot more space inside, which makes it ideal for group activities such as drum circles or general gatherings. They come in three sizes: 13', 14.5', and 16'. The largest yurt has an outside diameter of 17' making it great for groups up to 25-30 people.
Mongolian Style: Of course, we cannot talk about all yurts without mentioning the original yurt that inspired the design – the Mongolian yurt. This sturdy structure has a wooden frame and felt walls. It comes in at 11'6" in diameter and is a great choice for those who want to step back into history and experience the comforts of a simple yet cozy dwelling.
When Can You Go Yurt Camping?
Yurt camping is usually a year-round thing unless there is some form of storm or hurricane in certain areas. Yurt camping is much like regular tent camping except for the fact that yurts are sort of climate controlled due to their circular structure. Their circular structure greatly influence circulation of air, making them a great way to stay comfortable even in the summer months.
Can You Put Yurts In Your Backyard?
Yes you can! But if you plan on doing so, check around with your local laws about this first. Some places have restrictions against putting living quarters outside like this because of other people's safety (i.e: fire hazards). However, as long as all these precautions are taken, there shouldn't be any problems.
Why Use A Camping Yurt?
Camping yurts are also known as "ger" tents. The word means "home" in Mongolian, so you know that no matter where you are when you camp in a yurt, it will feel like home. These tents are not only easy to put up but they can be taken down just as quickly and easily by two people which makes packing up the car much quicker for your family after camping trips. There is less need to worry about rain while camping with your yurt because it has walls that protect against the elements and there is enough room in most types of yurts for a small stove, which means no more camping out in the cold. These tents are stand alone structures that can be used by anybody at anytime with little or no experience required.
Before You Buy A Camping Yurt
There is some debate over whether you should go bigger or smaller when purchasing a camping yurt. While it may seem like going bigger would make for better sleeping arrangements and more comfortable home base while on your trip, smaller yurts (especially those made of canvas) pack up much faster and make transporting them to your campsite easier. It's best to go big if you plan on bringing extras along like extra cots for children, but consider the other factors as well before purchasing one.
What To Look For In Yurts
There are a few things to keep in mind when shopping for yurts. Different aspects of yurts will decide how sturdy and durable they are or how comfortable they are. Here are some things to look for in a yurt:
Material - The material you choose for your yurt will be a deciding factor in how sturdy and durable it is. A yurt made from canvas will create a more homey feel, but it will not be as strong or long-lasting as one made from polyester. A yurt that has been treated for resistance to UV rays from the sun will last a lot longer than a normal untreated material because of its durability withstanding constantly changing weather.
Shape - The shape of your yurt is another important factor to consider. Yurts are available in different shapes and sizes, including circular, octagonal, square, polygonal and other designs that allow the structure to be set up according to the best possible view for its occupants.[1] Some have no walls or just partial walls while others have solid walls all around. Setting up a round yurt will leave less open space at the entrance whereas setting it up with an angled roof will make entering easier but also create more floor space within the structure itself.
Size - Yurts come in many different sizes, so make sure you choose one with enough room inside for your family or group of people for optimal comfort. Also consider what extras you might want to bring with you on the trip when choosing the size of your yurt's floor space. For example, if plan on bringing cots for sleeping, the yurt will need to accommodate for extra space. Another important thing to consider when choosing a camping yurt size is how much it weighs because you might not be able to carry it if it's too heavy or bulky. One that has been treated with special UV resistant material and seams will weigh more than one that only has the untreated original structure and fabrics.
Design - The design of your camping yurt will vary depending on which country you're from, if you're in North America then it's typically round in shape whereas for those located in Asia they are usually square or polygonal. Some have no walls while others have all around walls or partial walls. Setting up a round yurt will leave less open space at the entrance whereas setting it up with an angled roof will make entering easier but also create more floor space within the structure itself. Also take into consideration that each design has different features and functions that can affect how you use it.
Location - The location of where you plan on setting up your camping yurt should also be considered because depending on what type of ground make-up there is under the yurt could cause some problems during setup and use. For example, having a hard surface like pavement would make for an uncomfortable resting place in comparison to dry dirt or grass because pads underneath cots could sink in causing discomfort.
When it comes to setting up a camping yurt you do have choices depending on what kind of weather conditions are expected, the size of your family or group, and how long you plan on being out. For example, some people will bring along cots while others will only use sleeping bags because they are lighter to carry. Also keep in mind that having one central location for everyone's stuff can be helpful if someone gets caught in the rain during setup it doesn't matter because everything is centrally located under the roofing system of this specific design.
Where Can You Stay In A Yurt?
Yurts are very versatile in that they can be easily moved from one location to another by pulling them with a pick-up truck or SUV with a hitch attached to it. That makes them perfect for outdoor activities such as sports games, rodeos, or even camping, so you can easily set up your own campsite to be used for family events.
Conclusion
If you're looking for an easy way to set up a great campsite, give yurts a try. They are lightweight structures that can be easily transported by one person and will offer your family the comfort of home while on your next camping trip. Contact me if you have any questions! I look forward to hearing from you soon.